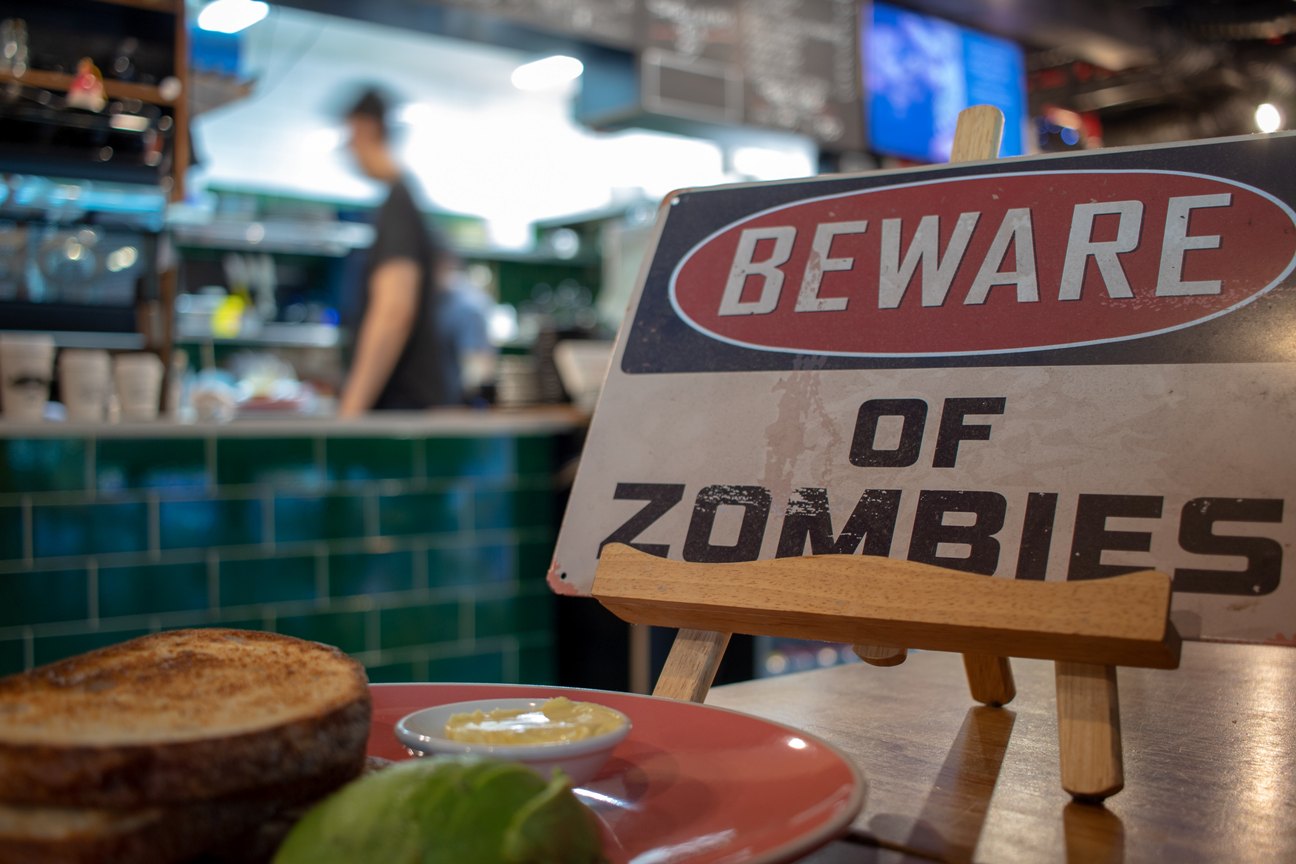 The number of zombie foreclosures reached an all-time high during the Great Recession. Could they make a comeback if the housing market collapses again? Photo by Chris Hall on Unsplash.
In a recent article ("Would You Live in a Zombie Property? These Might Tempt You…,"), we talked about the benefits of finding and renovating a zombie property.
Zombie properties are abandoned homes and lots (oftentimes trash strewn and dilapidated) that became problems for many neighborhoods after the 2008 housing crisis.
Recently, nonprofits and government agencies have begun working together to turn zombies into the exact opposite. They breathe new life into them and transform them into vital, habitable homes. Vacant lots and abandoned homes that used to be a blight on a community are now harbingers of a neighborhood on the upswing.
But for some people being saddled with a zombie property is a true nightmare. One that doesn't have such a happy ending. This happens when a homeowner is faced with a "zombie foreclosure."
How the housing crisis gave life to zombie foreclosures
Now it's common knowledge that homeowners who fail to make their mortgage payments will receive a foreclosure notice from their bank. The bank will take over the property, evicting the homeowner and oftentimes entire families.
This was the grim scenario that occurred to millions of property owners after the real estate meltdown of 2008.
And here's the flip side of the zombie property story. For every "zombie property" that gets rehabbed and returned to the housing stock there is often the back story of a homeowner who fell on hard times.
After receiving a foreclosure pending notice from their bank, the homeowner moves out. They assume the bank will immediately take over responsibility for the property. But what many homeowners don't realize is that in some states it can take years to finalize the foreclosure process. During this time the title to the property is not in the bank's name. It remains in the homeowner's name.
Until title transfers to the bank, the homeowner is still on the hook for property maintenance, taxes and homeowner association fees. Depending on the property, this can amount to thousands if not tens of thousands of dollars.
In some cases, banks cancel the foreclosure process entirely. They may already have more foreclosed inventory than they can handle. Or, if the property is in poor repair, they may simply walk away from it altogether.
Because title remains in the original homeowner's name, they could be haunted by their zombie foreclosure for years. Some people have found themselves dunned by the tax man for back property taxes, sued by the city when squatters moved in and fined for graffiti and trash removal.
Sounding the alarm: Are we on the brink of another zombie foreclosure crisis?
The number of zombie foreclosures has decreased dramatically in the years since the 2008 housing crisis. However, some experts believe we could be headed for another devastating crash in the property markets.
CoreLogic (a provider of financial and property data) says their recent study shows that approximately 40 percent of the country's top housing markets are overvalued. Their research of the top 50 markets reveals home prices in these areas are at least 10 percent higher than the long-term, sustainable level.
The housing numbers from the US Census Bureau shows the dramatic runup in home prices over the last decade. The average sales price of a new home sold in the United States was $269,800 in April 2009. Fast forward ten years and compare that to the $393,700 average sale price of a new home in April 2019. That's an increase of 45.9 percent.
It's numbers like these that have many people worried we're in the middle of another housing bubble. If the bubble bursts, we could see an uptick in the number of zombie foreclosures.
According to Nolo, homeowners can protect themselves from a zombie foreclosure by understanding the foreclosure process. They should stay in their home until the banks sends them the legal notice to vacate. They should then get written proof that their lender has taken over title to the property.
Is there a better way to navigate a hot housing market?
Of course, one of the best ways to not get caught off guard by a collapse in the housing market is to keep your housing costs low. Focus on both short-term and long-term affordability. This means not getting caught up in the frenzy to buy into an overheated housing market in the first place.
Before buying, ask yourself if you could afford your mortgage payments if the economy were to tank and you lost your job or source of income. Do you have enough in savings to pay your mortgage while you work on replacing your income?
If the answer is no, then buying now is probably not a good idea, no matter how tempting. Don't let FOMO (the fear of missing out) dictate this important decision.
Instead, you might be better off exploring some of the other housing options we tell you about on Affordable Housing Tips. Depending on your situation, any one of these could help you keep your housing costs manageable and still provide a comfortable lifestyle:
Please Note: some browser settings (e.g. ad blocking, tracker blocking) can interfere with the Facebook display. Please consider disabling or adding an exception if our Facebook posts are not visible.