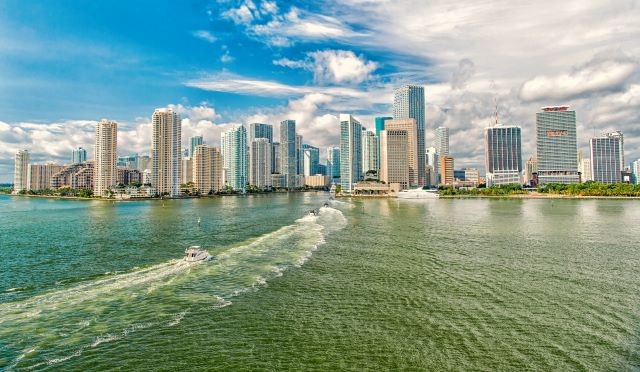 Miami, Florida has seen a massive
rise of almost 60 percent
more people moving there in 2022 compared to three years earlier. If you're one of the people looking to keep this trend going in 2023, then you might be taken aback by
Miami's average rent of $3,003 per month
for a one-bedroom apartment (as of March 2023).
Happily, we've found six neighborhoods where you can find cheap rent in Miami: Fontainebleau, Buena Vista, Riverview, Riverside, Fontainebleau Park East, and The Roads. Whether you're a university student, retiree, or young family, one of these neighborhoods will have just what you're looking for.
Why settle for an expensive average neighborhood when you could live in a desirable neighborhood with a significantly more competitive price tag? From luxurious surroundings to rich Cuban-heritage communities, this article will walk you through six gorgeous, desirable, and budget-friendly Miami neighborhoods.
6 Neighborhoods Where You Can Find Cheap Rent in Miami
"Cheap" is often confused with synonyms like "poor" or "bad." In other words, if a place is cheap by local standards, there must be something wrong with it. While none of the neighborhoods we're about to introduce you to are perfect, they're far from unsafe, rundown, or undesirable.
These areas are affordable and they all have something unique to offer the prospective resident.
1. Fontainebleau
Florida International University (FIU) claims to be the "fastest-rising university in the country," with numerous top-rated research programs. You'll find many of those students in nearby Fontainebleau, taking advantage of the $1,600 average monthly rent for a one-bedroom apartment.
Public transportation is top-notch in this area, providing easy access to the FIU campus as well as to major shopping at the Mall De La Americas.
In terms of safety and livability, this is an area with mixed reviews. Some locals seem to feel that the neighborhood is safe and prosperous, while others complain of drug-related crime. This perhaps explains the $1,403 monthly price difference between Fontainebleau and the rest of Miami.
2. Buena Vista
Both sides of Miami's Biscayne Bay are rich with iconic museums, gardens, casinos, shopping centers, and art districts. The three affordable neighborhoods on our list that bump up against the bay naturally have the best access to these desirable features of Miami life.
First off, we visit Buena Vista, where you can live in a one-bedroom unit for an average rent of $1,750 per month.
Buena Vista is loved by residents not just because of its access to the excitement, but also because it's just far enough away from the "Magic City" (Miami's enduring nickname) that there's some peace and quiet. Buena Vista is considered historic, and many of the homes are older, meaning some disrepair could be possible in your rental unit.
3. Riverview
Riverview isn't an uncommon name in the watery state of Florida. Our Riverview is a much-loved historic district close to downtown Miami. Riverview was part of the original Floridian efforts to raise cities from the Everglade swamps. There are 113 significant and protected buildings in the neighborhood that are part of the city's efforts to preserve its history.
Average rent here is $1,853 per month for a one-bedroom apartment. This gives you access to a gorgeous community rich with theaters and shopping centers.  Another attraction is the Pérez Art Museum Miami (PAMM), a museum that celebrates modern and contemporary art from around the globe.
4. Riverside
If you're having trouble telling the difference between Riverview and Riverside, then it might help that Riverside in Miami is locally known as "East Little Havana." It's a neighborhood that's very popular with families who are attracted to a public school system that is ranked above average.
Bayside Marketplace—a two-story open-air marketplace—is a standout in the community, bringing great shopping, cultural diversity, and many special events. There's also a Walking Food Tour available in Little Havana so you can get a chance to not only enjoy delicious local food but get a feeling for the neighborhood.
This is the first neighborhood on our list that crosses the two-grand mark for a one-bedroom apartment. On average you can expect to pay $2,068 a month in Riverside.
5. Fontainbleau Park East
If you need to rent somewhere in Miami in a hurry, then this could be your best bet. For an area with an abundance of small apartments and a high population density, year-round vacancy is, surprisingly, above the national average.
On the other hand, Fontainbleau Park East has an average monthly rent of $2,150 for a one-bedroom unit. Unlike other places where you can find cheap rent in Miami, the buildings are generally newer with more modern amenities.
Although this neighborhood is not to be confused with either Fontainebleau or the luxury Fontainebleau Hotel, it's also close to the FIU campus and is equally popular with university students and employees.
6. The Roads
The last of our affordable neighborhoods close to Biscayne Bay, The Roads isn't well-known by outsiders, but it's worth taking another look at the real estate. While rent is affordable by Miami standards—$753 less than the average—the area's elegant homes and tree-lined streets create an atmosphere of luxury. This can be yours to enjoy for an average monthly rent of $2,250 for a one-bedroom unit.
The roughly triangular neighborhood takes its name from an odd habit of calling every street a "road" in defiance of city norms.
Besides the other ocean-front amenities, one of the most spectacular recreation spots close to The Roads is the Vizcaya Museum & Gardens. In addition to enjoying the museum activities and beauty of this historic place, you can also reserve it for a big event such as a wedding.
How does Miami rent compare with other major cities?
In recent years, Florida really began selling the fact that there is no state income tax. This has helped attract young professionals in droves to a city that's quickly becoming one of the world's largest international business hubs.
But that's not all Miami has to offer.
People who end up staying in Miami long-term cite the lovely year-round weather, the uniquely diverse culture, a more relaxing lifestyle, and a vibrant nightlife as reasons to love the Magic City.
Very specifically, the cost of living is 103 percent higher in New York City (Manhattan) than in Miami-Dade County. This is especially notable in terms of affordable housing. Overall, Miami has rent that's $1,546 less than New York City (Manhattan) for a one-bedroom apartment.
The cheap neighborhoods on our list are even easier on your bank account.
For example, The Roads is $2,299 less per month than New York City.
Riverview is $2,696 less per month than New York City.
Saving you $32,352 a year—which you could spend on the first year of a three-year excursion living on the luxury cruise ship the MV Gemini as it sails around the world visiting 375 ports and 135 countries.
Fontainebleau is $2,949 less per month than New York City.
Miami Rent vs. Other Major U.S. Cities

City
Average one-bedroom rent
Average two-bedroom rent
Miami, FL
$3,003 per month
$3,899 per month
Dallas, TX
$1,396 per month
$1,879 per month
Houston, TX
$1,234 per month
$1,591 per month
Austin, TX
$1,619 per month
$1,879 per month
New York, NY
$4,549 per month
$6,378 per month
Boston, MA
$3,402 per month
$4,653 per month
San Francisco, CA
$3,388 per month
$4,707 per month
Los Angeles, CA
$2,719 per month
$3,835 per month
Chicago, IL
$1,875 per month
$2,438 per month
Atlanta, GA
$1,952 per month
$2,420 per month
Source: Rent.com (March 2023)
About the writer: Suzanna Fitzgerald is a professional content writer specializing in crafting your stories into irresistible online marketing blueprints. You can find out more about Suzanna (along with her contact info) on her writer's biography page.
---
More "Cheap Rent" Articles