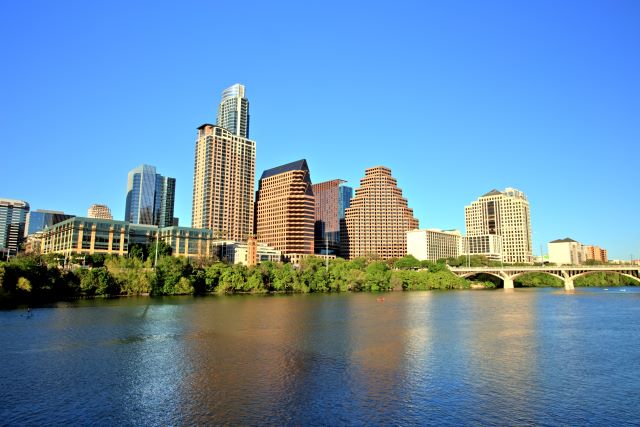 Austin often ranks as one of the most desirable places to live both in Texas and in the United States. However, with an average monthly rent of $1,546 for a one-bedroom apartment, finding an affordable place to live in Austin may seem out of reach for some folks.
Fortunately, we've found these seven neighborhoods in Austin where you can find cheap rent: North Austin, Windsor Park, Hancock, South Austin, Hyde Park, Clarksville, and North University. We also chose these neighborhoods for their safety, good schools, and a variety of recreational activities.
Besides specific insights on rental savings, in this article we highlight what makes each area the potential perfect fit for you. We cover the employment, entertainment, nightlife, and recreation opportunities that make these neighborhoods some of the best in Austin.
7 Neighborhoods Where You Can Find Cheap Rent in Austin
Interestingly, the seven neighborhoods that made our list with the best combination of lifestyle attractions and cheap rent stretch right through the heart of Austin. North Austin—the cheapest area on our list—sits at one end, and 18.5 miles away is South Austin. The other neighborhoods are mostly right in the middle of that corridor, loosely grouped around the University of Texas (UT) campus. Best of all, these seven neighborhoods offer budget-friendly rent that is below the average $1,546 a month for a one-bedroom apartment (as of February 2023).
1. North Austin
For $1,188 per month for a one-bedroom apartment, you'll be near North Austin's amazing shopping scene, and a wide variety of entertainment options ranging from a vibrant nightlife to outdoor recreation. Plus, one of the things Austin is known for nationally is its food scene, and a lot of that is thanks to North Austin.
A wide variety of choices covers most of the globe:
All-American casual dining
European (especially Italian)
Asian (Thai and Vietnamese)
Indian cuisine
East Coast-style lobster eateries
North Austin's slight disadvantage is that two of the city's biggest employers—Google and Meta—are headquartered in the South Austin neighborhood.
2. Windsor Park
Windsor Park is one of those neighborhoods that used to have a bad reputation. Recent efforts, however, have made it much safer and nicer. The average rent for a one-bedroom apartment in Windsor Park is only $1,199 per month. The downside is the many older homes you'll find in this area, which may result in you renting a fixer-upper.
The upside is that this is a family-oriented neighborhood, with nice restaurants, and basic shopping at big box stores. Windsor Park's biggest attraction by far is the Bartholomew District Park, home to many fun activities including a locally famous public pool.
3. Hancock
If you're looking for a more historic vibe, Hancock has retained its old-fashioned charm despite the recent influx of new residents. Hancock is home to a recreation center that caters specifically to kids aged 3-13, as well as a very nice golf course.
Some of the homes in Hancock date back to the 1920s. So, for an average rent of $1,245 per month for a one-bedroom, you might find yourself in a somewhat dated unit without the most modern amenities.
4. South Austin
For all Austin's laid-back ways, they do have a bit of the Texas competitive spirit when it comes to which side of the city is better. And, with all due respect to North Austin's lower price points and family-friendly feel, South Austin does tend to win (at least among its most ardent fans).
Besides being close to many of the biggest employers in Austin, South Austin is also the real heart of the city's concert and party lifestyle. Zilker Park is home to the annual Austin City Limits (ACL) music festival, along with botanical gardens and other outdoor recreation.
For only $1,250 per month for a one-bedroom apartment, South Austin also has the widest offering in terms of food, shopping, and community events.
5. Hyde Park
Once marketed as the "most fashionable neighborhood" in a wealthy and affluent city, today the Hyde Park area retains that atmosphere of restrained, chic desirability. The area is chockfull of self-described "hidden gems" of restaurants and eateries, along with shopping and recreation venues that are half-disguised as museums and historical sites.
Despite the inherent class and elegance of this neighborhood, it's still only an average $1,250 per month for a one-bedroom apartment.
6. Clarksville
Lady Bird Lake (named for former first lady, Lady Bird Johnson) is a major part of Austin life. It both supplies a great deal of the city's water and its outdoor entertainment. Clarksville is the closest neighborhood on our list of places to find cheap rent in Austin to this beloved body of water! The area is also only a mile from the Texas State Capitol and home to upscale eateries and famous art museums.
After Texas' emancipation, the land was given to former enslaved black families by the governor. It's named after the former enslaved man—Charles Clark—who helped develop the area.
Today, at an average rate of $1,295 a month, you can rent a one-bedroom unit in one of the most historically rich neighborhoods in Austin.
7. North University
Ranked highly among national universities, the University of Texas (UT) is one of Austin's big draws. The University is rated ninth in the nation for undergraduate engineering degrees, and seventh in business degrees.
The North University neighborhood is just one mile from the UT campus. This makes the average $1,350 rent for a one-bedroom apartment the best choice for college students.
North University also appeals to folks who want a youthful atmosphere among eco-friendly neighbors, along with walking or biking access to bars, restaurants, and outdoor parks.
How does Austin rent compare with other major cities?
Austin, Texas has a reasonably affordable rental market, especially when compared to other major cities in the U.S. For example, you'll save approximately $384 a month on rent for a one-bedroom apartment in Austin compared to Chicago.
However, according to NerdWallet's cost of living calculator, that single comparison doesn't reflect the overall 17% lower cost of living in Austin versus Chicago.
Healthcare (3% lower)
Food (16% lower)
Transportation (26% lower)
And that overall lower cost of living doesn't include one of the biggest Texan attractions—no state income tax. Which means that once your driver's license reads "Texas," the 5% off the top that Illinois takes from your paycheck will stay in your wallet.
Austin Rent vs. Other Major U.S. Cities
City
Average one-bedroom rent
Average two-bedroom rent
Austin, TX
$1,546 per month
$1,880 per month
New York, NY
$4,537 per month
$6,303 per month
Boston, MA
$3,480 per month
$4,677 per month
San Francisco, CA
$3,366 per month
$4,707 per month
Miami, FL
$2,998 per month
$3,856 per month
Los Angeles, CA
$2,716 per month
$3,822 per month
Chicago, IL
$1,930 per month
$2,362 per month
Atlanta, GA
$1,936 per month
$2,525 per month
Portland, OR
$1,572 per month
$1,872 per month
Philadelphia, PA
$1,851 per month
$2,026 per month
Source: Rent.com (February 2023)
About the writer: Suzanna Fitzgerald is a professional content writer specializing in crafting your stories into irresistible online marketing blueprints. You can find out more about Suzanna (along with her contact info) on her writer's biography page.
---
More "Cheap Rent" Articles