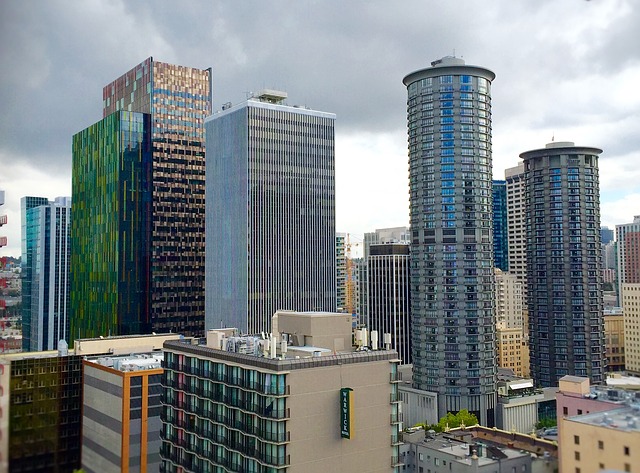 In one of its newest high-rise buildings located in the middle of downtown Seattle, Amazon is doing something about homelessness that might surprise you. The company has dedicated over 63,000 square feet and eight floors of its headquarters to build a family shelter that will provide temporary housing for 275 homeless moms, dads, and children.
When completed sometime in early 2020, the shelter is expected to be the largest of its kind in Washington state. Run by a non-profit group, Mary's Place, the program will focus on providing families with safe temporary lodging and services needed to help them find permanent housing.
Because the shelter is part of Amazon's headquarters and located right on its corporate campus, it will allow Amazon employees the opportunity to volunteer helping the residents. There are already plans for volunteers to provide free coding classes and to help the residents write resumes needed for job searches.
A shelter designed specifically for families
The shelter is designed to look more like a motel than a shelter. Families will have private rooms. Two floors of the shelter will be dedicated to families with children who are battling illness or disability. The shelter will include a state-of-the-art kitchen that will provide meals to the residents along with meals for thousands of other Mary's Place residents who live in other shelters scattered throughout the city.
Not only is Amazon footing the bill for the construction of this homeless shelter within its headquarters, it's also pledged to pay for utilities, rent, and security for the next 10 years.
In King County—where Amazon is located—there are about 12,500 homeless people. Mary's Place Executive Director Marty Hartman expects the temporary shelter will house up to 400 families each year. She says the new facility will help families who are currently living in cars, tents, and U-Haul trucks. The goal is to get families off the street so they can work on achieving permanent housing and financial stability. According to Hartman, "It's a place where kids can be kids while their parents work on the tough stuff."
What's behind Amazon's philanthropy?
Since expanding its presence in Seattle in 2010, Amazon and CEO Jeff Bezos have been at the center of intense criticism based on the impact the company has had on local real estate and housing prices. The Seattle Times estimates the company went from 5,000 Seattle-area employees in 2010 to about 53,500 employees in 2019. While the company went on a hiring spree, it did not address the issue of where all these new workers (many of whom did not already reside in Seattle) were supposed to live.
This influx of new workers placed tremendous demand upon Seattle's limited housing stock. Rents soared 42% in the ten years starting in 2007, pricing many lower- to mid-income residents out of the market.
Government officials have criticized Amazon for not doing enough about the housing shortage. In May 2018, the city council targeted Amazon and passed an employee tax on large companies in order to pay for homeless services. Business groups in the region fought against the levy, successfully pressuring the city council to rescind its decision a month later.
Amazon's funding for Mary's Place might be one of the ways the company is attempting to address the impact it's had on homelessness and rising housing prices in Seattle. However, the company will need to continue its efforts if it's going to assuage angry politicians and residents, who say the company's efforts are too little too late.
In what might be seen as an attempt to make amends, Bezos announced his Day One Fund in late 2018. Through the fund, the billionaire pledges to donate $2 billion of his personal wealth to homelessness and early childhood education initiatives throughout the country.
Microsoft, Google, and Facebook pledge billions for affordable housing
Amazon isn't the only tech company that's faced backlash for the impact its corporate offices have had on local housing markets. In January 2019, Microsoft president Brad Smith said Microsoft would commit $500 million toward affordable housing in the Puget Sound region. In June 2019, Google CEO Sundar Pichai announced a $1 billion investment in San Francisco Bay Area housing, which will include housing options for long-time middle and low income residents.
And in October 2019, Facebook announced it would commit $1 billion toward affordable housing in California and other communities where they operate. Chief Financial Officer David Wehner says the money "will go toward creating up to 20,000 new housing units to help essential workers such as teachers, nurses and first responders live closer to the communities that rely on them."
So how much of an impact will all this spending have on the affordable housing crisis? That's a question a lot of housing experts are asking. While throwing billions of dollars at the problem may provide some help, the truth is the challenges of affordable housing often go beyond money.
There are special interest groups that continue to block the development of new housing projects. Restrictive zoning laws also impede new developments in many regions of the United States. Some politicians insist taxation or federal rent control are the only solutions, while others say these solutions will only make the problem worse. The only thing that seems certain is that a "one size fits all" quick fix isn't on the horizon for the affordable housing crisis.
Please Note: some browser settings (e.g. ad blocking, tracker blocking) can interfere with the Facebook display. Please consider disabling or adding an exception if our Facebook posts are not visible.