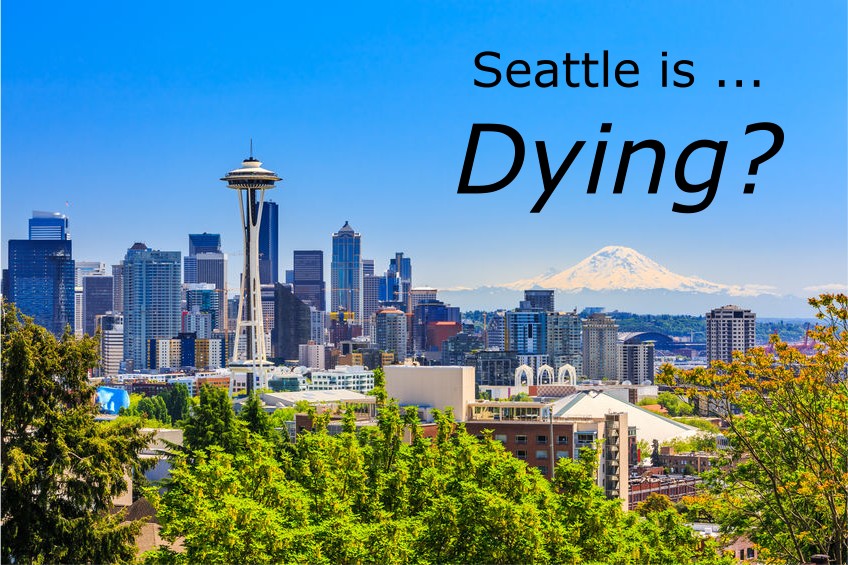 I watched
"Seattle is Dying"
recently. It's an hour-long, high-quality video released by Seattle news station KOMO-TV. The grim title refers to the big increase in homelessness in Seattle, especially in the last several years since the financial meltdown in 2008. The video shows how some of the homeless are making life miserable for many businesses and individuals in the city.
There is no mystery, according to the video, as to the cause: illegal drug usage is rampant among the homeless. The city refuses to enforce the drug laws, the dealers are plying their trade with impunity, and all Hell has pretty much broken loose.
The video was well done, entertaining, and informative – sort of. I've lived in another major West Coast city with a big homeless problem – San Diego – so I can understand the anger, fear and frustration in the community. But I came away feeling uneasy after the video ended.  Something didn't seem right… something had been left out. And it worried me.
As the co-founder of affordablehousingtips.com, I want everyone to have the best chance of having a good place to live for themselves and their family. The last thing I want is for anyone to become homeless, in Seattle or anywhere else. Understanding the real reasons there are so many with no place to live is essential to avoiding their fate.
Even the wording of the question is important. Is the question really "What causes homelessness?" Or would a better question be "What makes it possible for everyone to have a decent place to live?"
What causes homelessness? Or computer-lessness, or car-lessness, for that matter?
We all want a home, certainly. And there are plenty of other things we want. How about computers?  They have been around for years, going back to the 1940s I believe. But for decades, everyone except giant corporations and governments – those with vast amounts of cash – was "computerless."  What was the cause of "computerlessness"? They were outrageously expensive!
And what cured "computerlessness" for billions of individuals? The amazing advances that brought prices down and within reach of most who wanted one.
Going farther back in history, think about automobiles. At one time, wealthy people had them, but everyone else was "carless." Henry Ford was one of those who cured "car-lessness" for almost everyone – by making them affordable.
Just to be clear: this is not meant to trivialize homelessness or the terrible impact it has on those affected. Shelter is a fundamental human need. If we truly want decent housing for everyone, housing must be as plentiful and affordable as possible. This has worked for computers, automobiles, and countless other things people want and need.
More people had cars when they became affordable! Could this apply to homes?
OK, this seemed like a reasonable place to start. If prices coming down could cure "computerlessness" and "car-lessness," maybe there is a connection with homelessness – including homelessness in Seattle. Let's see.
I may be onto something.  According to the National Law Center on Homelessness & Poverty:
"Insufficient income and lack of affordable housing are the leading causes of homelessness."
The report goes on to say:
"According to the most recent annual survey by the U.S. Conference of Mayors, major cities across the country report that top causes of homelessness among families were:
(1) lack of affordable housing, (2) unemployment, (3) poverty, and (4) low wages, in that order."
The same report found that the top causes of homelessness among unaccompanied individuals were:
"(1) lack of affordable housing, (2) unemployment, (3) poverty, (4) mental illness and the lack of needed services, and (5) substance abuse and the lack of needed services."
"Lack of affordable housing" and "Unemployment" at the top of the lists! Seems reasonable enough. Let's see if any of this applies to Seattle.
Homelessness in one of the nation's most expensive housing markets!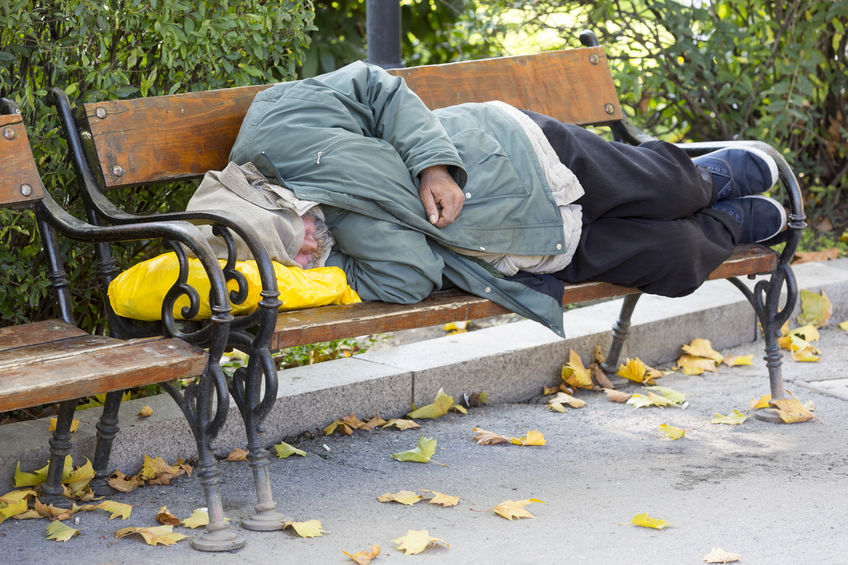 What do you know! According to an August 2018 article in the Seattle Times, Seattle is the third most expensive housing market in the United States. (emphasis added)
Three is not the charm in this case: from a September 2016 article in crosscut.com:
"The total homeless count — including those staying in shelters and short-term housing programs — exceeded 10,000 for the first time last year, giving King County the third highest homeless population of any U.S. metropolitan area. Only New York City and Los Angeles had more." (emphasis added)
The article goes on to say that the relationship between rent increases and homelessness has actually been quantified:
"Research demonstrates that for each $100 increase in average monthly rent, cities can expect a 15 percent increase in homelessness. Bearing this out, King County's annual street count of people experiencing homelessness has increased by 74 percent over the past four years."
So far, I'm not finding a lot of ammunition for the "Drugs are the primary cause of homelessness" position put forth in the "Seattle is Dying" video. "Lack of affordable housing" keeps showing up – unsurprisingly enough in an area as expensive as Seattle.
And it isn't just the homeless who are struggling with Seattle's expensive housing. As the prices for housing continue to rise, people with regular incomes, working-class jobs like nurses, police, and schoolteachers are increasingly priced out of the housing market.  Microsoft has recently announced a $500 million program to provide funds to increase housing in the area, including, hopefully, affordable housing.
Solved! Super inexpensive housing for those without a lot of resources… oh, wait…
But maybe there is hope for the homeless and others at the lower end of the income scale. Maybe human ingenuity will come up with something clever, the way Henry Ford was able to drive the price of automobiles way down.
This goes in the "Been there, done that" file. It wasn't Henry Ford, but human creativity that came up with a great solution for the problem of truly inexpensive housing over a century ago: the SRO, single-room-occupancy hotels.
The SRO accommodations were far from fancy and weren't going to win any awards – but they were a place to live. These modest rooms provided inexpensive shelter for newcomers, immigrants, transient laborers, and anyone who just needed truly affordable housing.
"[A] good hotel room of 150 square feet—dry space, perhaps with a bath or a room sink, cold and sometimes hot water, enough electric service to run a [light] bulb and a television, central heat, and access to telephones and other services—constitutes a living unit mechanically more luxuriant than those lived in by a third to a half of the population of the earth."
—Paul Groth in Living Downtown: The History of Residential Hotels in the United States.
SROs vanished as an affordable housing option for the down-and-out as a variety of factors changed everything. These factors include:
"Urban renewal" plans in many cities
Investors looking to upgrade the older buildings, with accompanying vast increases in rents
Increasingly strict building codes including fire and earthquake retrofitting
Our society, in its infinite wisdom, has "upgraded" millions of housing units, removing an entire segment of the housing market in the name of greater revenue. But they forgot about the residents! So here we are, with this enormous "homeless" problem. Oops.
Here is some more background on SROs and other housing formats
If you're interested in the shift in housing that has taken place over the last century or so, here are a couple of good references.
A quick pictorial essay: The rise and fall of the American SRO
From the essay: "The same cities that struggle to provide affordable housing today eliminated their critical-but-maligned flexible housing stock after World War II."
From the 2013 Slate article: Bring Back Flophouses, Rooming Houses, and Microapartments
"Dumb urban policies wiped out the best kinds of housing for the poor, young, and single. But they're finally making a comeback in smart cities."
But what about the drugs? Aren't they at least part of the problem?
The ongoing debate about drug use is way beyond the scope of this article. Still, there is nothing new or surprising about people in dire straits turning to drugs. During the Vietnam war, thousands of GIs came home addicted to heroin. It wasn't hard to understand: they were living a nightmare. Desperate people do desperate things. Does anyone really think drug use was somehow responsible for the Vietnam war?
I don't mean to excuse or ignore the real damage some do while using drugs. But I see nothing to be gained by reversing cause and effect. Homelessness is a real tragedy, to be avoided at all costs. This requires a clear understanding of the genuine causes.
Meanwhile, in Rhode Island, things are looking up
Toward the end of "Seattle is Dying" things do take a positive turn. Maybe the producers felt the unrelenting misery portrayed in the first 40 minutes or so needed some relief; whatever the case the optimism shown was welcome.
The scene shifted, somewhat abruptly, to Providence, Rhode Island. It's still all about the drugs, and those who use them. But in Rhode Island there is a statewide program, administered to incarcerated addicts who choose to participate. The segment is quite positive; several individuals give brief interviews in which they credit the program with literally saving their lives.
Compared to simply prosecuting drug addicts, the idea of actually helping them – at least those who wish to improve their lot – certainly sounds good. I would prefer a society that didn't create so many desperate souls in the first place but again, this is beyond the scope of this article. The video definitely made things look a lot better for drug users in Providence than those in the homeless camps in Seattle.
But once again, that skeptical voice inside me said, "This is super – but what does it have to do with homelessness in Seattle?"
The message seems to be: "They are tough AND compassionate with drug users in Rhode Island – and it's working. People are getting their lives together, getting jobs, and not living on the street anymore. We can – and should – do this in Seattle."
This sounds great, but it just doesn't compute. Getting real help with a destructive drug habit will help some individuals. But the goal is to become self-sufficient, with an income and a place to live.
For those trying to re-establish themselves in an area like Seattle, there is a double economic "whammy" to overcome. Entry-level jobs, such as those in food service, are being lost due to recent increases in the minimum wage.
Let's say you're determined and you're able to find work. How do prices compare between Seattle and Providence when you go looking for that all-important place to live?
Here is a cost-of-living comparison between Seattle and Providence.  While a couple of items are slightly more expensive in Providence, it's no contest overall:
"Providence is 44.7% less expensive than Seattle.
Providence housing costs are 74.0% less expensive than Seattle housing costs."
What does all this have to do with you?
Chances are you don't live in Seattle. You may not be worried about your ongoing ability to provide a good home for yourself and your loved ones. If that is the case, you are indeed fortunate.
But it isn't only those at the lowest end of the income scale that can be affected by the rapid increase in housing costs. More and more people are commuting for hours to get to work in an expensive big city – where they can't afford to live.
"Seattle is dying" obscured an obvious, if frightening fact about homelessness: if you can't afford a place to live, you can become homeless. It is that simple.
What can I do to avoid this kind of trouble for myself and my family?
Here are some things you can do to help insure your housing future:
1. Learn as much as you can about the different policies in different parts of the country (and perhaps the world). Some areas do seem willing to reconsider housing policies in an attempt to alleviate the shortage.
Moving to an area with better housing prices is a well-known financial strategy. If this is in your future, you might want to consider an area with housing policies designed to maximize available housing. Prices for anything, including housing, are determined by supply relative to demand. Areas willing to allow new housing to be built as needed are less likely to suffer the outrageous price increases we have been experiencing.
2. Learn about the amazing things being done to deal with the affordable housing shortage / crisis. Henry Ford is long gone, but creative and bold entrepreneurs all over the world are coming up with an amazing variety of new ways to provide shelter. 3D printed homes, shipping container homes and houses built from a kit are just a few examples.
3. Maintain and increase your personal connections with others: friends, family, professional – whatever kinds of connections you have. You may be valuable resources for each other if you need to make some changes due to our ever-uncertain future.
4. Give your family an honest appraisal of the situation and do whatever you can to enlist their help in reducing unnecessary expenses. Many families spend surprisingly large amounts simply "keeping up with the Joneses," buying expensive name brand items just to keep up appearances. Children and especially teenagers are especially vulnerable to this kind of manipulation. My guess is complete sincerity and honesty about the situation would have the best chance of reaching them and getting their cooperation.
Here is one more thing you can do: bookmark affordablehousingtips.com and sign up for our newsletter. We are determined to help our readers avoid the housing difficulties that are disrupting more and more people in our world.
Please Note: some browser settings (e.g. ad blocking, tracker blocking) can interfere with the Facebook display. Please consider disabling or adding an exception if our Facebook posts are not visible.