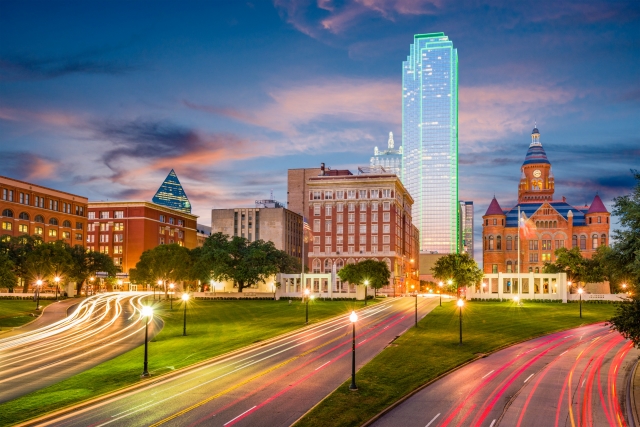 Dallas, Texas has become a destination for many families and young professionals.  Generally considered to be one of America's safest and most prosperous big cities, with a strong economy and growing job market, the attraction is easy to see. Yet why pay Dallas's average monthly rent of $1,396 for a one-bedroom apartment when we know where you can find seven significantly more affordable communities?
We've discovered seven neighborhoods with cheap rent in Dallas: Peak's Addition, Lower Greenville, Old East Dallas, Lake Highlands, Casa View, Oak Lawn, and Far North Dallas. Depending on your personal needs, you can save $102-$471 a month in rent in these neighborhoods and still enjoy the best Dallas has to offer.
Renting is a great way to try out a new city, but in a sprawling metropolis like Dallas you still want to be sure that you choose the right neighborhood. There are differences in school districts between Lower Greenville and Lake Highlands, while Old East Dallas has the most interesting things to do. Whatever your needs, this article will highlight the best each neighborhood can offer you.
7 Neighborhoods Where You Can Find Cheap Rent in Dallas
Home of the famous Dallas Cowboys football team, Dallas is a life-in-the-fast-lane kind of place, fueled by coffee shops rather than bars. It's served by not one but two major airports: Dallas Love Field and Dallas-Fort Worth International Airport (DFW), which—at 27 square miles—is the second largest airport in the U.S.
If this lifestyle is your vibe, then you'll definitely want to take a close look at the following neighborhood breakdowns for the best data about what will affect your daily life and wallet. All the neighborhoods on our list come in at less than the average monthly rent of $1,396 for a one-bedroom apartment in Dallas (as of February 2023).
1. Peak's Addition
In Peak's Addition, you can try living in the oldest residential neighborhood in Dallas for an average $925 per month for a one-bedroom apartment.
Family roots and ties to the past are very important to long-time residents, many of whom have lived in the same house for generations. The culture here is very much family-centric with an expectation of neighbor-helping-neighbor.
Because this is an older neighborhood, many of the historically charming Victorian-style homes may have some fixer-upper issues.
Another downside is the fact that the local public school is not rated highly either for Texas or other Dallas-Fort Worth districts. However, if schooling is important to you, there are several local top-rated charter and private schools in the area.
2. Lower Greenville
Renters definitely benefit from Lower Greenville's outdated "rough part of town" reputation. Recent efforts have transformed it into a safe and clean suburb, but average rent is still only $925 a month for a one-bedroom apartment.
Recently repaired streets and above average schools haven't slowed down the local nightlife.
Many popular restaurants and bars are within easy walking distance for the young professionals who make this neighborhood their home. Lower Greenville is also home to a massive block party and parade on St. Patrick's Day.
3. Old East Dallas
This neighborhood's within five miles of some fascinating attractions.
Some fun destinations include:
The Dallas Museum of Art
The Dallas World Aquarium
The Dallas Museum of Illusions
Old East Dallas is known for its historical streets tours featuring a wide array of home styles borrowed from around the world and across the centuries. Average rent here is $1,100 per month for a one-bedroom unit.
4. Lake Highlands
"An ideal place to raise a family!" satisfied locals say of this traditionally desirable area, which takes its name from nearby White Rock Lake.
While not considered to be as safe as some other Dallas neighborhoods, Lake Highlands is a sprawling neighborhood so there's room to spread out and choose your ideal pocket. While there's a nice variety of restaurants and coffee bars, many residents place a higher value on their thriving churches and youth ministries, as well as a highly reviewed school district.
Although the average one-bedroom apartment rent of $1,125 a month is only $232 less than the Dallas average, many of the homes in this neighborhood are newer, which cuts down on repair worries.
5. Casa View
If what you want out of your new Dallas life is to live, work, eat out once in a while, and generally mind your own business, then welcome to the Casa View neighborhood. Average monthly rent here is $1,152 per one-bedroom unit.
Big box stores for essentials like groceries, home supplies, and auto parts are all within the neighborhood, along with restaurants and coffee shops. There's also several nice parks, and one has a recreation center with a gym, Wi-Fi, hiking trails, and a tennis court. And a little outside of the neighborhood proper is a nice country club.
6. Oak Lawn
This is a great area to look at if you're a happenin' single in your 20s or 30s. Unlike some of the other neighborhoods on our list of places to find cheap rent in Dallas, Oak Lawn has an active nightclub scene with a lot of live DJs.
For an average monthly rent of $1,230, you can find yourself in a one-bedroom unit only a few miles away from UT Southwestern Medical Center. Also in the neighborhood is the locally famous AT&T Performing Arts Center, which hosts live concerts and dance shows along with other artistic events.
7. Far North Dallas
Although it's a bit of a drive, this neighborhood is closest on our list to the famous Southfork Ranch, where the hit TV series "Dallas" was filmed. And—interesting tidbit for college students—this area is only 7 miles from Dallas's University of Texas campus.
Average rent in this neighborhood is $1,289 a month for a one-bedroom apartment.
How does Dallas rent compare with other major cities?
If like many new Texas transplants, you're moving to Dallas from the coast, you're looking at HUGE savings in your day-to-day life.
In a simple one-bedroom apartment average rent comparison between Dallas and Los Angeles, you're looking at saving a whopping $1,323 a month or $15,876 in a year. If you're moving for a better standard of living, then you could rent a two-bedroom unit in Dallas and still save over $10,000 a year.
Even though Dallas traffic is widely acknowledged to be just as much of a nightmare as LA's, transportation costs are 58% lower in Dallas than in Los Angeles.
Dallas Rent vs. Other Major U.S. Cities
City
Average one-bedroom rent
Average two-bedroom rent
Dallas, TX
$1,396 per month
$1,879 per month
Houston, TX
$1,234 per month
$1,591 per month
Austin, TX
$1,619 per month
$1,879 per month
New York, NY
$4,549 per month
$6,378 per month
Boston, MA
$3,402 per month
$4,653 per month
San Francisco, CA
$3,388 per month
$4,707 per month
Miami, FL
$3,003 per month
$3,899 per month
Los Angeles, CA
$2,719 per month
$3,835 per month
Chicago, IL
$1,875 per month
$2,438 per month
Atlanta, GA
$1,952 per month
$2,420 per month
Source: Rent.com (February 2023)
About the writer: Suzanna Fitzgerald is a professional content writer specializing in crafting your stories into irresistible online marketing blueprints. You can find out more about Suzanna (along with her contact info) on her writer's biography page.
---
More "Cheap Rent" Articles