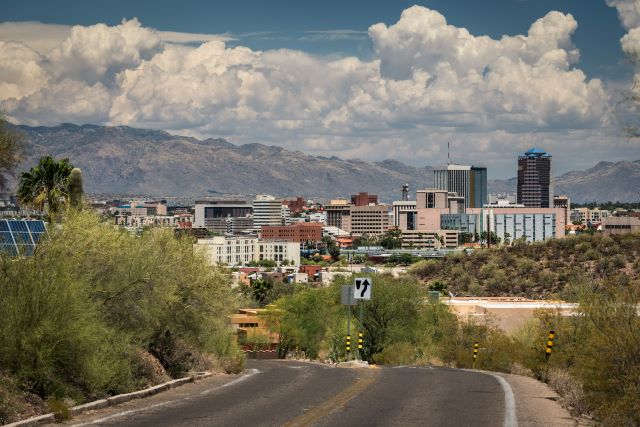 As a sprawling metropolis of just over a million residents, Arizona's second-biggest city, Tucson, has become an attractive destination for an increasingly diverse mix of people. Tucson has a lot to offer families, retirees, and college students. Along with a unique combination of desert and mountains, the city also has a relatively low cost of living and is home to the nationally recognized University of Arizona.
You can find cheap rent in Tucson in seven neighborhoods: Sunnyside, North University, South Harrison, Feldman's, Dietz, Northwest, and Midvale Park. These neighborhoods also offer lower-than-average city crime rates, which is vital in a city that's only safer than 3% of other U.S. cities.
Of course, this cheap rent in Tucson is somewhat offset by the city's negatives. Besides the high crime rate—particularly for property crimes—some of the downsides to living in Tucson include triple-digit temperatures in summer and a large transient population.
However, for many people, these disadvantages are offset by major advantages to lifestyle and opportunity, which the communities on this list very much reflect.
7 Neighborhoods Where You Can Find Cheap Rent in Tucson
Each of these cheap Tucson neighborhoods offers access to at least one—if not several—of these famous Arizona attractions:
Recreation options that range from outdoor adventures to Native American-owned casinos…
A tight-knit community feel among long-term residents…
A thriving Southwestern culture, and…
An active university scene
…With the biggest attraction remaining Tucson's general affordability.
As of the publication of this article, if you make at least $14.63 an hour—which is only $0.78 more than Arizona's minimum wage—you can afford to rent the average one-bedroom apartment in Tucson. As of February 2023, the average rent for a one-bedroom unit in the city is $1,017 a month.
The neighborhoods on this list drop that housing cost even lower, and each area offers other significant advantages as well.
1. Sunnyside
One of Tucson's more populous areas, Sunnyside is home to some 13,801 people, many of them families who enjoy the neighborhood's parks and a crime rate that's 5% lower than the city average. Some residents do note that while the weather is amazing, recent city developments have meant some loss to the area's greenery and nature habitats.
Parking is especially easy in Sunnyside, which is a huge plus in a spread-out city like Tucson.
For an average of $744 per month, you can rent a one-bedroom unit only a few minutes' drive from Tucson's international airport and only a little over 8 miles away from one of Tucson's biggest attractions, the Pima Air and Space Museum.
2. North University
North University's median residential age is 22 years old. Besides being very affordable at an average of only $775 for a one-bedroom apartment, North University has a 14% lower crime rate than Tucson's average.
Most notably, this neighborhood is the hub of many of the 19 separate colleges that make up the University of Arizona (UA).
Home to the famous Arizona Wildcats, UA is especially renowned as a doctoral college, and is the fourth most-awarded public university by NASA for research. UA's also the driving force of many community events in Tucson and has a thriving social life. Some would say too thriving, as UA is also considered to be Arizona's number one party school.
3. South Harrison
Drive carefully when moving to South Harrison, as this is a neighborhood where children play in the streets and people walk around at night. Since it's on the edge of the city itself, there aren't a lot of businesses, restaurants, or shopping opportunities nearby.
However, it's within a few miles of some of Tucson's famous outdoor recreational attractions, including:
You can rent a one-bedroom apartment in South Harrison for an average of $900 a month and enjoy crime rates that are 25% lower than the Tucson average.
South Harrison also has an excellent public school district.
4. Feldman's
In the past, this area was known as Lung Hill because of four Wild West-era tuberculosis sanatoriums located in the region.
Today, it's remembered for Alther M. Feldman, a businessman from Eastern Europe whose expanded house is now home to the Kappa Alpha Order fraternity house.
Ironically—given that Feldman himself died in a public transit accident—it's one of the few neighborhoods in Tucson with excellent public transportation. It also has access to two major bikeways.
Average rent for a one-bedroom unit in this quiet neighborhood is $949 per month. Feldman's is also very close to all the downtown shopping and entertainment amenities on 4th Avenue.
5. Dietz
An average rent of $964 for a one-bedroom unit is very reasonable for a neighborhood that's considered one of the best places to live in Arizona. Home to many retirees, Dietz also has 5 public schools with 4 or 5 star ratings.
According to locals, the scenery in Dietz is second to none, with stunning sunsets and access to canyon and mountain hiking trails. Residents also note, however, that the crime rate—13% lower than the Tucson average—is achieved by a fairly high police presence.
6. Northwest
Only city officials and tourists know this neighborhood as Northwest Tucson. To locals, it's Sugar Hill, a name that harkens back to the days when the black families who founded the area were shut out of much of the rest of the city. While the neighborhood had fallen into decay, the combined action of long-time residents and college students has helped restore it.
Currently, crime rates in the area are 9% lower than the Tucson average and rent for a one-bedroom apartment is $989 per month. Attractions include:
great views of the mountains,
access to the I-10,
nearby resorts and golf courses, and,
the recreation-filled Mansfield Park
Sugar Hill is also just five miles from the 24-acre Reid Park Zoo, home to over 500 animals and many family-oriented activities and events.
7. Midvale Park
Across the I-19 corridor from the Sunnyside neighborhood, Midvale Park is a master-planned community that was strategically raised from a cotton field. Midvale Park has a homeowner association (HOA)—which is sometimes considered a negative by native Arizonans because of a strong desire to maintain property rights.
Midvale Park is also an area with walking access to shopping and is close to Tucson Spectrum, a major mall.
For $1,035 per month for a one-bedroom apartment, Midvale Park offers easy driving access to many of Tucson's most interesting attractions:
How does Tucson rent compare with other major cities?
Trying to find affordable housing isn't just a sound financial decision. Choosing a town like Tucson over, say, the often more popular San Francisco has become a matter of buying back time.
For example, if your current goal is to own a home of your own:
You currently can save $2,320 per month—$27,840 in a year—by renting a one-bedroom apartment in Tucson instead of San Francisco.
Using the savings on your rent alone, you could afford to buy a Tucson home outright in a little over 11 years. In San Francisco, that would take you almost 47 years…and you wouldn't be saving that extra two-thousand dollars a month in the first place.
In other words, choosing Tucson over San Francisco could buy you approximately 36 years.
Tucson Rent vs. Other Major U.S. Cities

City
Average one-bedroom rent
Average two-bedroom rent
Tucson, AZ
$1,017 per month
$1,299 per month
Phoenix, AZ
$1,277 per month
$1,575 per month
New York, NY
$4,446 per month
$6,304 per month
Los Angeles, CA
$2,725 per month
$3,765 per month
Boston, MA
$3,567 per month
$4,875 per month
Miami, FL
$3,012 per month
$3,886 per month
San Francisco, CA
$3,337 per month
$4,613 per month
Washington, DC
$2,428 per month
$3,250 per month
Source: Rent.com (February 2023)
About the writer: Suzanna Fitzgerald is a professional content writer specializing in crafting your stories into irresistible online marketing blueprints. You can find out more about Suzanna (along with her contact info) on her writer's biography page.
---
More "Cheap Rent" Articles