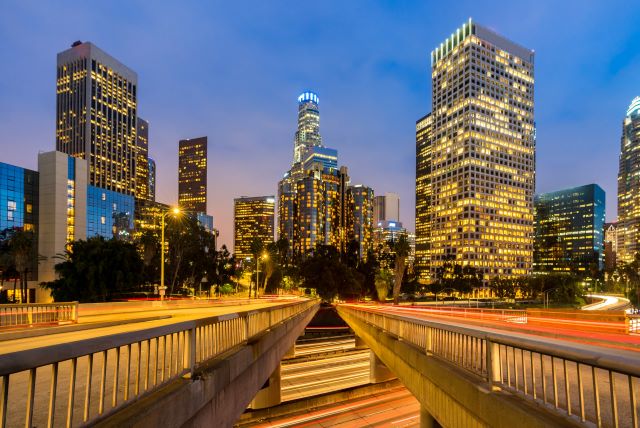 Home to Hollywood, great weather, the ocean, iconic theme parks, and almost 4 million people, Los Angeles remains one of the most desirable places to live in America. However, if
LA's median rent
of $2,400 per month for a one-bedroom apartment is shaking you up, then this article should offer you some hope. That's because we've found 10 areas with significantly lower than average rents.
You can find cheap rent in Los Angeles in these 10 neighborhoods: Palmdale, Lancaster, Central San Pedro, Lake Balboa, Panorama City, Van Nuys, Greater Valley Glen, Northridge, Tarzana, and Koreatown. These neighborhoods are exclusively on the northern end of LA, with two outside the city itself.
Are you looking for great weather or a diverse community? Rich history and amazing attractions, or energy and better job opportunities? Whatever you're looking for, we've broken down these Los Angeles' communities not only by the cheapest rents, but also by their specific lifestyle benefits. (Rents mentioned below are from May 2023 rental surveys).
10 Areas Where You Can Find Cheap Rent in Los Angeles
1. Palmdale
Land in the Antelope Valley may no longer sell for $0.50 an acre like it did 100 years ago, but it still remains one of the more relatively affordable and family-friendly communities in Los Angeles Here a one-bedroom apartment rents for a median $1,600 a month.
This price brings you to an area with great schools and a small-town feel, while also offering access to big-city amenities like a water park, an air museum, an amphitheater, many hiking trails, and driving access to big attractions like Universal Studios and Knott's Berry Farm.
2. Lancaster
If you're looking for the perfect balance between a family-friendly atmosphere, a diverse community, and affordable housing—at a median rent of $1,500 per month for a one-bedroom apartment—you'll be hard pressed to find a better neighborhood than Lancaster.
Although this community is an hour north of LA, the city is economically prosperous and business-oriented. Among other arts and educational services, Lancaster provides roughly one city park per every 14,741 residents, helping to maintain its small-town atmosphere.
3. Central San Pedro
As one of the three main areas of the Port of Los Angeles, San Pedro tends to attract a unique mix of business-minded residents and artists. One of the ways Central San Pedro celebrates this dual personality is by hosting art studios in many businesses, including large commercial warehouses.
Along with other artistic attractions like independent music venues, a big draw to Central San Pedro is the median rent of $1,750 for a one-bedroom apartment.
4. Lake Balboa
What do you do when there's not enough nature in your city to suit you? You dig a 27-acre, 10-foot-deep lake, fill it with reclaimed water, and stock it with trout and catfish.
Named for this man-made wonder, Lake Balboa has become a popular community for families, gentle water sports enthusiasts, and fishermen—as well as numerous species of water fowl. Rent in this area is at a median of $1,845 per month for a one-bedroom apartment.
5. Panorama City
Unlike most cities which grow over time, Panorama City was built and then populated. The post-World War II dream of an industrialist, the city remains one of the most densely populated, and practical, working cities in the greater LA area.
At a relatively low rent of $1,836 for a one-bedroom apartment, Panorama City has a particular draw for immigrant communities with its young, energetic, and focused atmosphere.
6. Van Nuys
Van Nuys is conveniently located close to many of the other lower-rent neighborhoods in LA such as Panorama City, Lake Balboa, and Northridge. Despite being one of the more densely populated areas of the San Fernando Valley, Van Nuys offers it residents many amenities.
This includes recreational activities ranging from a trampoline park to a Japanese Garden to water sports at nearby Lake Balboa Park. It's also relatively affordable at a median rent of $1,895 a month for a one-bedroom apartment.
7. Greater Valley Glen
More of a college town, Greater Valley Glen is home to Los Angeles Valley College, which not only educates degree-chasers, but also offers extensive continued education and personal development for the area's residents.
The region also has a very fine school district, dedicated to greatness in learning. There's a diverse mix of ethnicities enjoying the median one-bedroom apartment rent of $1,900 per month.
8. Northridge
In the college neighborhood of California State University, Northridge (CSUN), you'll be safer than in 60% of the other cities in California. The crime rate, which is 26% lower than the national average, will help you enjoy a host of recreation areas such as lakes and a historic park.
It's also less densely populated than many of the other areas on our list. While the median monthly rent for a one-bedroom apartment is higher than places like Palmdale, it's still lower than the LA average, coming in at $2,049 a month.
9. Tarzana
Once the ranch home of Edgar Rice Burroughs—author of the eternally popular "Tarzan of the Apes" series—Tarzana offers a slice of movie star glitz.
You may not be swinging through the jungle, but you can rent a one-bedroom apartment for the median price of $1,950 per month. And you'll be only a half hour drive from Hollywood itself, with complete access to all the amenities of the big city.
10. Wilshire Center – Koreatown
Anchored by a beautiful pavilion garden—Da Wool Jung—and the first Korean grocery store opened in LA, Koreatown serves as a cultural icon. Koreatown continues to celebrate its rich history with a variety of markets, restaurants, and a museum that seeks to preserve both the hardships and triumphs of this community.
Although closer to the average rent in LA, you can still get a one-bedroom apartment in Koreatown for $2,194.
Rent Comparison for Los Angeles Neighborhoods with Cheap Rent
Affordable housing is defined by how big a percentage of your income it takes to secure housing. Most government sites say housing is affordable if a household spends no more than 30% of total gross income on housing.
According to the National Low Income Housing Coalition, you'd need to make a minimum of $30.85 per hour just to afford a one-bedroom apartment in LA. This is why choosing one of these more affordable neighborhoods can help you to save hundreds, maybe even thousands, of dollars per month, which can greatly improve your quality of life.
Below we've included a handy chart for you to compare the median rents of each area by rental unit size:
Los Angeles Neighborhoods with Cheap Rent

Area
Median one-bedroom rent
Median two-bedroom rent
Median three-bedroom rent
Palmdale
$1,600 per month
$1,950 per month
$2,500 per month
Lancaster
$1,500 per month
$1,960 per month
$2,699 per month
Central San Pedro
$1,750 per month
$2,495 per month
$3,200 per month
Lake Balboa
$1,845 per month
$2,458 per month
$3,750 per month
Panorama City
$1,836 per month
$2,550 per month
$3,195 per month
Van Nuys
$1,895 per month
$2,598 per month
$3,600 per month
Greater Valley Glen
$1,900 per month
$2,500 per month
$4,062 per month
Northridge
$2,049 per month
$2,699 per month
$4,011 per month
Tarzana
$1,950 per month
$2,645 per month
$4,250 per month
Wilshire Center – Koreatown
$2,194 per month
$3,104 per month
$3,750 per month
Source: Zumper (as of May 2023)
About the writer: Suzanna Fitzgerald is a professional content writer specializing in crafting your stories into irresistible online marketing blueprints. You can find out more about Suzanna (along with her contact info) on her writer's biography page.
---
More "Cheap Rent" Articles