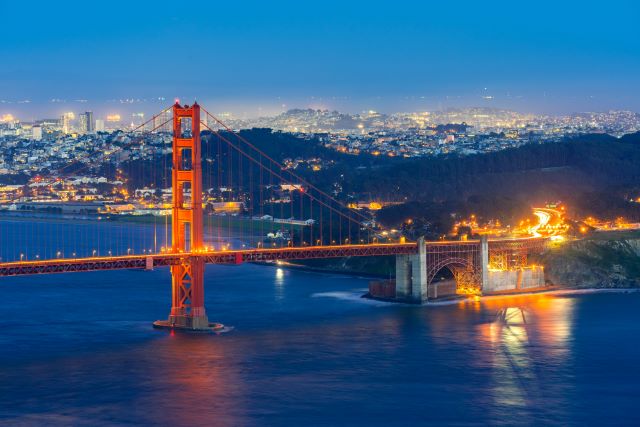 The world knows San Francisco as "Golden Gate City." If you're trying to rent a one-bedroom apartment at the
city's median rent
of $2,995 per month, however, it might be tempting to call it "The Too-Golden City." But don't despair! We've found seven neighborhoods with median rents that are significantly lower than most areas in San Francisco.
You can find cheap rent in San Francisco in seven neighborhoods: Visitacion Valley, Excelsior, Parkside, Bernal Heights, Outer Sunset, Outer Richmond, and Inner Sunset. Even though they're cheaper, several of these neighborhoods are also listed among the safest areas in San Francisco.
While New York City is still the most expensive place to live in the United States, Jersey City and San Francisco are currently tied for second place (as of April 2023 rental surveys). In this article, you'll find seven San Francisco neighborhoods that offer the California dream, at significantly cheaper rents.
7 Areas Where You Can Find Cheap Rent in San Francisco
Like many cheaper areas in a popular—and populous—city, these neighborhoods circle the dense center of San Francisco's downtown. Visitacion Valley is in the southeast side of San Francisco, while Outer Richmond is in the northwest bordering Golden Gate Park.
1. Visitacion Valley
Visitacion Valley was named for a holy feast day by the Catholic priests who first settled there. Since that sunny July in 1777, Visitacion has served as a hub of hospitality and entertainment.
Famous attractions include access to the nearby Cow Palace Arena and Event Center. Recreation areas like San Bruno Mountain and John McLaren Park are also very popular.
Historically more affordable than many areas in San Francisco, Visitacion Valley has rents at a median of $2,295 per month for a one-bedroom apartment. One reason for the lower prices in the neighborhood is the lack of the city's investment in services for the area. Some residents complain the city has not made good on its promises to provide more housing, infrastructure improvements, and retail development in Vistacion Valley.
2. Excelsior
Would you like to rent a one-bedroom apartment for the median $2,000 per month on Paris? Not in Paris (the French capital), but rather on Paris street in the Excelsior neighborhood of San Francisco?
The Excelsior community was originally founded by Italian farming families, who started the tradition of naming streets after foreign countries and cities. Considered one of the safer neighborhoods in San Francisco, Excelsior has many historical landmarks.  The area's businesses—including bakeries and pharmacies—often double as historical landmarks.
3. Parkside
Despite complaints that streets could be cleaner and infrastructure—such as roads and street lighting—could be better maintained, Parkside retains a strong sense of community. The city often holds events and concerts in its historic parks.
Another strong draw to Parkside is the neighborhood's schools, many of which are highly rated. The median rent for a one-bedroom apartment in the area comes in at $2,300 per month.
4. Bernal Heights
If you're a dog-lover, then Bernal Heights is a great option. The rocky hilltop park area (for which the neighborhood is named) offers incredible views of San Francisco and the Bay area. Because it's in a hillier area, you'll find lots of climbing and hidden stairs along the hiking trails.
Bernal Heights is conveniently close to the downtown action. It is also considered to be a safe neighborhood by San Francisco standards.
One-bedroom apartments in Bernal Heights go for a median rent of $2,688 per month. While still pricey, this is about $300 less per month than San Francisco's median rent.
5. Outer Sunset
Once known as "Outer Lands," Outer Sunset still maintains a peaceful residential atmosphere, despite San Francisco having grown up around it. Although it's a half-hour drive from downtown, Outer Sunset is only minutes from the Pacific Ocean.
Another of our safest, cheaper neighborhoods in San Francisco, Outer Sunset's median monthly rent is $2,373 for a one-bedroom apartment.
6. Outer Richmond
This neighborhood is one of three distinct mini-neighborhoods that make up "The Richmond" as a whole. Also known as San Francisco's second Chinatown, Outer Richmond has a median monthly rent of $2,350 for a one-bedroom apartment.
This neighborhood is near beaches and world-famous city parks. This includes Golden Gate Park, San Francisco Botanical Gardens, and scenic Lincoln Park.
Although few outsiders realize it, Golden Gate Park is actually larger than New York City's Central Park, and offers countless outdoor recreational activities, sports, and cultural events.
7. Inner Sunset
Inner Sunset shouldn't be confused with Outer Sunset, which is a little over two miles away. While it's still considered cheaper than the San Francisco median rent, Inner Sunset is pricier than other areas on our list. Fans of the area say the higher rent is worth it due to the highly rated schools and proximity to many attractions.
At a median rent of $2,895 per month for a one-bedroom apartment, Inner Sunset is another neighborhood with access to the Golden Gate Park, as well as many unique cultural activities.
Rent Comparison for San Francisco Neighborhoods with Cheap Rent
Saving on housing costs—especially in a premium area like San Francisco—can significantly improve your overall standard of living. For example, the neighborhood of Visitacion Valley is 23% lower in median monthly rent than San Francisco. That means you could potentially save $700 each month in rent or $8,400 over the course of a year—if you're renting a one-bedroom unit, at least.
In Excelsior, you could save even more with a rental savings of $11,940 in 12 months!
7 San Francisco Neighborhoods with Cheap Rent

Area
Median one-bedroom rent
Median two-bedroom rent
Visitacion Valley
$2,295 per month
$3,200 per month
Excelsior
$2,000 per month
$3,273 per month
Parkside
$2,300 per month
$3,100 per month
Bernal Heights
$2,688 per month
$3,500 per month
Outer Sunset
$2,373 per month
$3,148 per month
Outer Richmond
$2,350 per month
$3,548i per month
Inner Sunset
$2,895 per month
$3,500 per month
Source: Zumper (as of May 2023)
About the writer: Suzanna Fitzgerald is a professional content writer specializing in crafting your stories into irresistible online marketing blueprints. You can find out more about Suzanna (along with her contact info) on her writer's biography page.
---
More "Cheap Rent" Articles