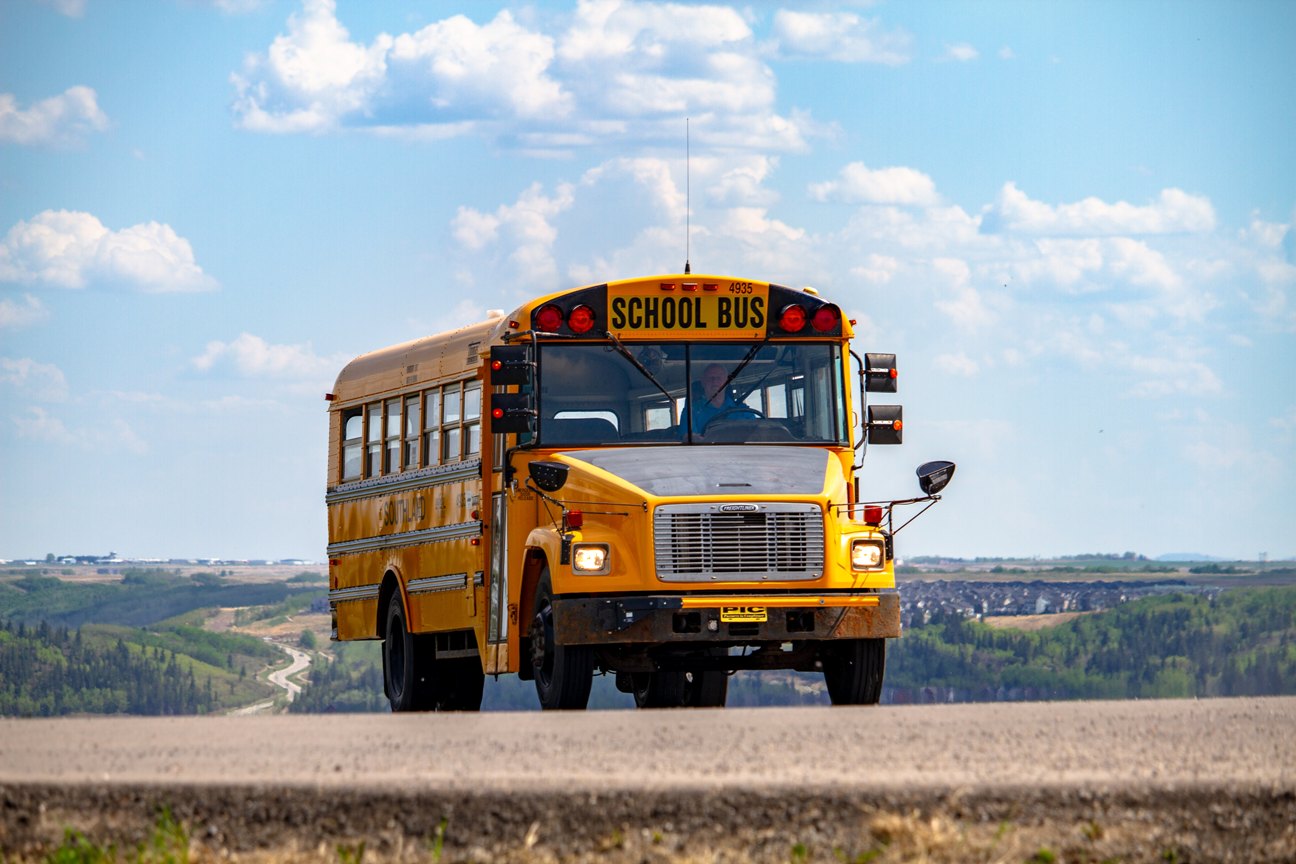 Hitting the road in a converted school bus is ideal for folks yearning to see the country. Take your work, your family and your sense of adventure with you! Photo by
Denisse Leon
on
Unsplash
.
You might think living in a converted school bus is one of the more unusual measures someone might consider to reduce their housing expenses. But as you'll soon find out, more people are finding the thrill of hitting the open road in a "skoolie" the perfect solution to high housing costs.
And what's more, some folks report a wide range of unexpected benefits to this unconventional lifestyle. Everything from lower stress to better relationships with loved ones to a chance to go "off grid" and make a positive impact on the environment.
So, get ready to go "old school" as we explore the topic in detail. Just click below to start your journey!
What is a converted school bus?
Living in a bus is not a new idea. Back in the 1960s and 70s, "hippie buses" became popular among people who were seeking an alternative lifestyle. Retired school buses along with the iconic VW vans provided a cheap form of transportation to satisfy a traveler's wanderlust.
But the images recalled of these vehicles weren't always flattering. Beat-up and lacking in creature comforts, some buses were known more for breaking down on the side of the road than they were for being a comfortable and reliable home on wheels.
Fast forward decades later and you'll find things have changed dramatically.
Today's school bus conversions are called "skoolies." People buy retired school buses and transform them into stylish and modern recreational vehicles.
A renovated skoolie can be very similar to the tiny homes you'll find on an HGTV show. They can include bathrooms with toilet and shower, modern kitchens with stainless steel appliances, king-size beds, charging stations for all your electronics, heating, air conditioning, solar panels, and water tanks. The list of amenities you can add seems only limited by the size of your budget.
How much does a used school bus cost?
You can buy a used school bus in the United States for a surprisingly low cost. I've found prices ranging anywhere from about $3,000 to $7,000+. The price varies depending on the size of the bus, how old it is and its condition. About 40,000 used school buses are sold every year.
In Florida's Miami-Dade County, for example, the school district auctions off more than 100 school buses a year. The auctioneer says families are drawn to the sale because the buses are cheap. You can buy one of the buses for about $3,000. According to the auctioneer, the motor alone is worth more than that.
Where do you buy a used school bus?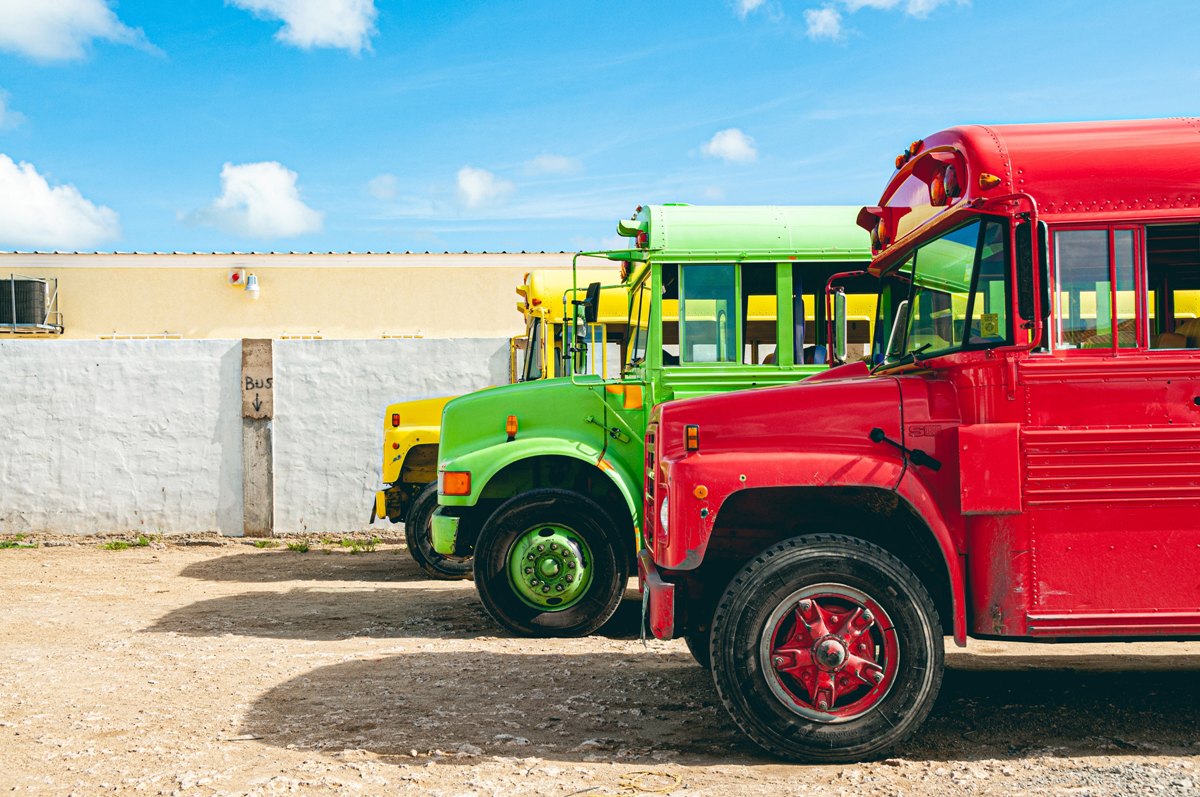 Photo by Paulo Evangelista on Unsplash.
In the U.S., you can buy used buses directly from some school districts. Regulations require schools to get rid of their buses after a specified time in service. The replacement time can vary from district to district. I've seen replacement times range from 6 years to 12 years.
School districts may sell their buses on the open market or through an auction house. Some districts may opt to sell their buses to a bus dealer or a used-bus trader instead.
You can contact school districts to see how they handle their used bus sales. You can also find a wide selection of buses for sale on GovDeals.com. This auction site provides services to government agencies allowing them to sell surplus items on the Internet. On the day I checked the site, they had 102 used school buses for auction. eBay also offers a large selection of used buses.
How much does it cost to convert a school bus?
Conversion costs can vary greatly. Most estimates I've seen say you should expect to spend between $20,000 to $40,000+ to outfit the bus into a habitable home.
Your conversion costs depend primarily on 3 factors: 1) The condition of the bus you purchase. 2) The kind of renovation you decide to do. 3) If you can do some of the labor yourself.
There seems to be good news regarding factor #1 (the condition of the bus you purchase). As you can imagine, schools are required to perform regular maintenance on their buses. After all, children's lives depend upon it.
If you purchase directly from a school district (or an auction site that sells buses on behalf of districts), you'll likely have access to maintenance records. While it doesn't guarantee you'll get a great deal on a well-maintained vehicle, you should be able to at least have a good idea of the repairs you might need before you buy. If possible, you'll also want a qualified mechanic to inspect your vehicle before you purchase. This will help you plan a budget for your conversion.
Your conversion costs will also depend upon the kind of renovation you decide to do. Do you want high-end appliances in your kitchen? Do you really need a tiled shower, or would a simple enclosure be fine? Do you need room to sleep a few people? Or do you need bunks for a large family?
Lastly, you can save on your conversion if you're able to do some of the labor yourself. Some skoolie owners enlist family and friends to help. You'll find dozens of videos on YouTube showing you how to do a school bus conversion. Some companies offer how-to classes.
Can you hire someone to do the conversion for you?
Yes. I found a few companies that specialize in doing custom school bus renos for people who don't want to do the renovation themselves.
SkoolieHomes offers full bus conversions starting at $35,000. ChromeYellowCorp does everything from rough-ins, electrical work, roof raising to full turn-key conversions. BlueRidgeConversions is a family business in North Carolina. They also have a "Skoolie Camp," teaching people DIY skills covering the entire conversion process.
If you're looking to buy a bus that's already either partially or fully renovated, you could also check out skoolie Facebook groups for leads.
How long does it take to convert a school bus?
The time it will take to convert a school bus depends on many factors. This includes the condition of the bus, the kind of amenities you want to include and the time you have available if you decide to go the DIY route. In general, the reviews I've read from skoolie owners say it took them anywhere from six months to two years to complete the project.
How big is a converted school bus?
School buses range in size from 20 to 45 feet long. Buses are approximately 7.5 feet wide.
People want to know how much living space they'll have in their skoolie. The amount of square footage depends on the bus size you purchase.
According to Zac from Rolling Vistas, a 23-foot long bus has about 120 square feet of living space. A 31-foot bus (considered a mid-size bus) has about 180 square feet of living space. And a 42-foot bus has approximately 270 square feet of living space.
This video by Rolling Vistas does an excellent job illustrating the square footage you'll get with each bus size. Video includes cool graphics and loads of useful tips:
Are there social groups for people interested in skoolies?
Absolutely. Just search Facebook and you'll find a long list of skoolie groups. Some groups have thousands of members with dozens of new posts daily. They share photos of conversion projects and post tips about living the skoolie life.
Skooliepalooza is a weeklong camping and community building event. Each year school bus conversion owners (and fans) meet up in Arizona to socialize, share build ideas and enjoy the freedom of school bus living.
What does a converted school bus look like?
A picture is worth a thousand words. Or, in this case, a video or two might be worth much more when you look at some of these skoolie home tours.
This video tells the story of Roman and Annie who named their skoolie, "Little Groundhog." It's a touching story of a couple who went tiny to make sure they would always have a home. Their home is amazing and so is their story.
Zac and Tiffany unveil their "rustic cabin on wheels," a 32-feet long school bus they purchased for $2,500 from the Cherry Creek School District in Denver.
This video is inspirational for anyone who has never done any reno work before and is wondering if a total newbie can take on a bus conversion. My favorite part of their skoolie? The woodwork; it's magnificent.
Can you go off-grid in a converted school bus?
Yes. If off-grid is important to you, you'll want to check out the amazing bus conversion video below. Luke and Rachel completely retrofitted their bus to include 900 watts of solar, a four-battery bank and wood fireplace.
They've added loads of creature comforts to their bus. Luke's welding skills came in handy. They raised the roof by 20 inches, giving the interior a spacious, airy feel.
They decked their skoolie out with stainless steel appliances, full bathroom with shower, tub and composting toilet. They chose the composting toilet over a black tank because they wanted to be off-grid as long as possible. Dumping a black tank would have hindered that.
They estimate it cost them around $30,000 to outfit the bus.
Is it hard to get insurance for a converted school bus?
The simple answer is yes. Many skoolie owners report they have difficulty finding a company that will insure their vehicle. The issue lies with the insurance companies not knowing how to categorize a converted school bus and assess risk.
You might have better luck getting insurance through an independent broker. Before issuing a policy, your company may ask for photos and documentation regarding the renovation and repairs you've made. Be sure to keep good records so you can show the underwriter the condition of your skoolie.
What unusual challenges might you encounter living in a converted school bus?
Above we covered the challenge you'll have in getting insurance. Here's a list of other things to consider when deciding if skoolie living is for you:
You need to know the laws. In many states, it's illegal to drive a converted school bus with the school bus lettering, yellow paint and stop arms. In those cases, you'll need to repaint and reconfigure the bus.
Parking can be tricky. Cities have different regulations on where and how long you can park your bus. You'll need to know the laws for each region you visit or risk a ticket and fine.
You may not be able to camp where you want. Some state and national park camp sites have a maximum limit on the size of bus they will allow. You may be aced out of the best camp sites if your skoolie is too long. If camping at these parks is important to you, you should research these size limitations before deciding which bus to buy.
Skoolies can be difficult to maneuver. The larger buses can be a challenge to park and turn around.
Skoolies get poor mileage. Probably not a surprise that these big vehicles are gas guzzlers. Depending on your bus, you might get around 7 miles per gallon.
Buses can get cold and hot. Fortunately, there are choices available that can help make your bus comfortable year-round. Some options include insulation materials, solar-powered air conditioning or wood stoves.
You'll need a maintenance budget for your converted school bus. Even after your initial major renovation, you'll need to set aside money for regular maintenance. The amount of money needed depends on the age of the bus and the amount of traveling you do. I've seen estimates of around $1,500 to $3,000 per year.
Other points to ponder
Now that you know about living in a converted school bus, you might be interested in other alternative housing options.
Well, we've got you covered at Affordable Housing Tips.
Have you heard about shipping container living? Yes, people have converted shipping containers into some very cool and cost-effective homes. You can discover more here:
What is a Shipping Container Home? Your Question and Answer Guide
If finding an affordable place to rent interests you, then check out these articles designed to help you save money on rent:
Coliving: Your Community in the Big City
Want to Win a Housing Lottery? Check out this Q&A Guide
---
More "Alternative Housing" Articles