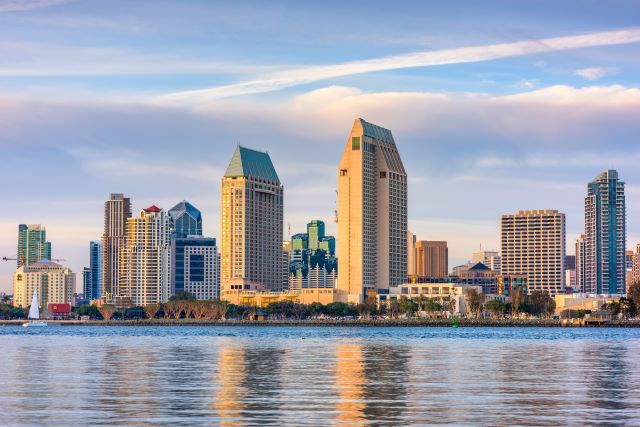 With a
median monthly rent
of $2,400 for a one-bedroom apartment, San Diego is one of the priciest rental markets in the United States. While it can be a challenge to snag a low-cost rental in "America's Finest City," we've found six neighborhoods in San Diego where rents are significantly cheaper than the median price.
You can find cheap rent in San Diego in Paradise Hills, Birdland, Southeastern San Diego, College East, Bay Park, and San Carlos. The neighborhoods with cheap rent are often in the south and eastern sections of the city.
In this article, we'll give you the details on exactly what you can expect to spend for rent in each of these lower-cost areas. Plus, we'll give you the scoop on seven additional areas near San Diego where you might save even more money on rent.
6 Areas Where You Can Find Cheap Rent in San Diego
In our research, we've uncovered six San Diego neighborhoods where you can find less-expensive rent. These areas are Paradise Hills, Birdland, Southeastern San Diego, College East, Bay Park, and San Carlos.
In each of these areas, you can find rentals that go for below the median San Diego one-bedroom rent of $2,400 a month or two-bedroom rent of $3,223 a month (as of May 2023). Below we've listed each of these neighborhoods, the average rent you can expect, and a few interesting facts about the area.
1. Paradise Hills
The median one-bedroom rent in the Paradise Hills neighborhood is $1,850 a month. Paradise Hills is in the southeastern portion of San Diego. The area has primarily single-family residences interspersed with small commercial centers that serve the neighborhood.
In and around Paradise Hills, you'll find many canyons and hills that offer scenic views of San Diego Bay, downtown San Diego, and the Pacific Ocean.
2. Birdland
The median one-bedroom rent in the Birdland neighborhood is $1,900 a month. Birdland is a triangle-shaped area bordered by I-805, Highway 163, and Mission Valley.
The community's colorful name stems from the many streets in the area that are named after different types of birds. You'll find mostly single-family homes in Birdland, which was developed beginning in the late 1950s. Birdland is conveniently located, about 15 minutes from downtown San Diego.
3. Southeastern San Diego
The median one-bedroom rent in Southeastern San Diego is $1,900 a month. This large urban area borders downtown San Diego to the southeast and includes such neighborhoods as Logan Heights, Sherman Heights, Grant Hills, Mount Hope, and Mountain View.
This cluster of ethnically diverse neighborhoods has been the focus of San Diego City Council's revitalization efforts. This includes initiatives to reduce crime in the area and improve the area's schools.
4. College East
The median one-bedroom rent in the College East neighborhood is $1,995 a month. College East is part of the College area that includes San Diego State University (SDSU).
The neighborhood has a decidedly college-town vibe with a diverse mix of residential neighborhoods where the locals live and apartment complexes that house students.
5. Bay Park
The median one-bedroom rent in the Bay Park neighborhood is $2,178 a month. Bay Park (also known as Mission Bay Park) is considered by many locals to be the ideal combination of reasonable rent and excellent livability.
Touted by some as one of the best San Diego neighborhoods for recreational activities, the area boasts apartment rentals with ocean and bay views. The beachside community offers lots of fun activities for the water sports enthusiast. This includes kayaking, paddle-boarding, and windsurfing.
6. San Carlos
The median one-bedroom rent in the San Carlos neighborhood is $2,235 a month. Located in the eastern part of San Diego, San Carlos is close to recreational areas such as the Mission Trails Regional Park and Cowles Mountain.
Lake Murray (a manmade reservoir) is nearby and offers nature lovers opportunities for fishing, hiking, and picnics with the family.
San Diego Suburbs Where You Can Save Money on Rent
Of course, if you're moving to California from another part of the country, you still might be shocked at how high the above-mentioned rents are in comparison to what you're used to. In our quest to help you get the most bang for your buck, we've extended our search to San Diego's suburbs.
Granted, these areas are not as close to the action and all the activities of San Diego's bustling downtown. Another drawback is if you need to commute downtown for your work, you might end up spending some significant time on the freeway each day. Still, many people prefer the quieter lifestyle, lower density, and generally larger accommodations you can get in outlying regions.
Below we've listed these cities you might want to consider, along with their median rents. Remember, this is in comparison to San Diego's median monthly rent of $2,400 for a one-bedroom and $3,210 for a two-bedroom. For many people, however, these "cheaper" rents are still exorbitant.
San Diego Suburbs with Cheap Rent
City
Median one-bedroom rent
Median two-bedroom rent
National City, CA
$1,695 per month
$2,573 per month
Santee, CA
$1,700 per month
$2,500 per month
El Cajon, CA
$1,727 per month
$2,150 per month
Spring Valley, CA
$1,904 per month
$2,142 per month
Lemon Grove, CA
$1,948 per month
$2,533 per month
Escondido, CA
$1,970 per month
$2,395 per month
Imperial Beach, CA
$2,000 per month
$2,595 per month
Source: Zumper (as of May 2023)
Please note: We've included rent information in this article for educational and illustrative purposes only. The data in this article may change rapidly depending on a variety of factors, such as supply and demand, local regulations, and circumstances unique to each rental market. The information in this article does not constitute a price guarantee for any rental unit, nor does it constitute legal or financial advice.
---
More "Cheap Rents" Articles