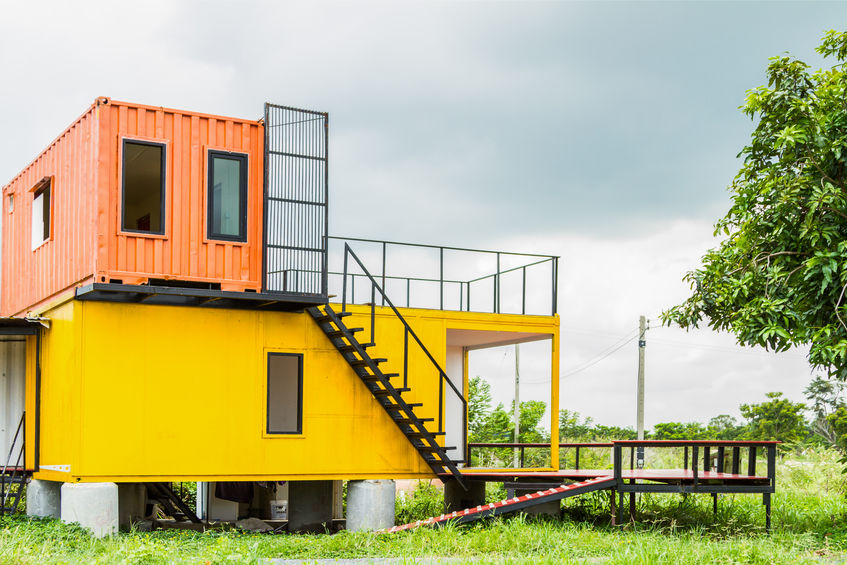 A shipping container home is made from what the shipping industry calls "intermodal steel building units" (ISBUs) or what most people refer to as shipping or cargo containers. You've probably seen these colorful steel boxes stacked at docks and on cargo ships. Containers allow you to ship just about anything, anywhere around the world.
But for many builders and home seekers alike, container retrofitting has become one of the hottest trends in affordable housing.
A big reason for this is the potential cost savings when you use containers as the raw starting material for your home. Shipping container homes can cost 10% to 50% less than conventionally built homes. One developer of container apartments says he's able to cut his costs by 75%. 
In the sections that follow, we'll dive into the pros and cons of building and living in a shipping container home. We'll discuss the costs, where to find containers, the companies you can hire to help you retrofit them, the building process and DIY options.
To get started, click on one of the Table of Contents links below. We also have a section with some cool videos showing the exteriors and interiors of some recent container builds. Click here to go directly to our video section.
If you have a few minutes and you're a bit of a history buff (like we are), then you might want to first read the next section introducing you to an everyday "hero" who invented the modern-day container.
Meet the truck driver who revolutionized the shipping industry — and maybe the future of housing…
The design for the modern-day steel shipping container was the brainchild of Malcolm P. McLean, an American from North Carolina. His is truly a rags to riches story.
McLean started his working life as a truck driver in the 1930s during the Great Depression. Over time, he built his business from a single truck to a fleet of 1,776 trucks by the early 1950s.
Now one of the biggest challenges McLean faced as a business owner was the slow and labor-intensive process of loading cargo from his company's trucks onto ships at loading docks.
Longshoremen would load cargo that came in crates and barrels in a variety of shapes and sizes. There was no standardized size. This meant his truck drivers would be left cooling their heels for hours waiting for their trucks to be unloaded at the docks.
McLean figured there had to be a better way. He went about inventing and patenting a standardized steel framed box that could be easily hoisted by cranes onto ships where they could be quickly locked in place and stacked for shipment.
While McLean wasn't the first to experiment with steel containers (the U.S. Army developed their own version called the "Transporter" in 1948), he is credited with designing a version that could be used across different types of transportation.
By incorporating a standardized design, the same container could go from ship to rail to truck without having to load and unload it each time.
McLean patented his idea in 1956 and based his company, Sea-Land Shipping, on his new concept.
The cost savings of his design were enormous. Before the advent of containerized shipping, it cost $5.86 per ton to load loose cargo. That cost plummeted to only 16 cents per ton using standardized boxes.
McLean's containers, however, didn't gain international acceptance until the late 1960s, when the US government and military began using them extensively.
In fact, the military was one of the first to use them for housing, finding them a great alternative as portable troop barracks they could quickly assemble and dismantle as needed. The military also uses them for offices, training barriers, storage units and mobile weapons systems.
Shipping Container Homes Questions & Answers
What are some of the benefits of living in a shipping container home?
While we discuss many of the advantages in more detail below, here's a list highlighting some of the top ones:
Modular: You can stack and assemble containers like building blocks, allowing you to easily build up and out.
Inexpensive: Individual containers range in price from $2,500 to $5,000.
Strong: Containers can withstand winds up to 175 mph when anchored to a foundation, making them a housing alternative for areas prone to hurricanes and tornadoes.
Starter-home option: You can begin by building a smaller home that accommodates your current needs and budget, adding containers in the future as your need for space increases.
Environmentally friendly: By using containers that have been decommissioned, you're recycling an item that might otherwise be scrapped or left to rust.
Quick construction: From start to finish, some companies can construct a container house in a quarter of the time it takes to build a conventional home.
How much does a shipping container home cost?
According to SG Blocks, a company that specializes in sourcing and retrofitting containers, the cost for a single container ranges from $2,500 to $5,000. Depending on the amount of space you need for your home, you may end up buying several containers to complete your project.
But the container itself is just one of many costs you'll need to consider when building a home.
You'll need to retrofit the container to make it suitable for human habitation. I've seen estimates for total finished costs for container homes ranging anywhere from 10% to 50% less than conventionally built homes. That's a significant savings that makes this kind of construction appealing to many.
There are a lot of variables that can affect your final cost, including the cost of land in your area and how much of the project you're able to complete yourself. If you're capable of a large DIY project, you could save yourself money in exchange for your time and sweat equity. Some companies sell kit homes you complete yourself starting at around $15,000.
If you decide on a hands-on approach, be prepared to tackle a variety of tasks. You will need to acquire the land for your home, create design plans, deal with zoning requirements, apply for permits and inspections, build a foundation, arrange for shipment of the containers to your site, have the containers assembled on-site, arrange for all the utility hookups, and complete all the interior and exterior finishing work.
All of these tasks will have their own associated costs which you'll want to plan for and include in your budget before you get started.
Working with a retrofit company
Another option is to hire a company to complete the project for you. There are quite a few companies specializing in turnkey solutions for both residential and commercial projects. The final cost for this option depends on your home size, design and the kind of custom features you select. Expect to pay anywhere from $50,000 to $200,000+ for a custom container home.
While this may increase your final costs, it's a safer option for people not familiar with home construction and the skills needed to work with steel as a building material.
And there are some costs that might surprise you when you begin building your home. Don't get caught off guard — check out our article, 7 Hidden Costs of Building a Shipping Container Home.
Where do I find shipping container homes for sale?
The Intermodal Steel Building Units (ISBU) Association suggests always buying from a reputable dealer with credentials you can verify.
You can find a list of dealers from the ISBU Association and/or the Container Dealers Association (CDA). We haven't worked with any of the dealers you'll find on these sites and can't give any specific recommendations or endorsements.
Before any container purchase, be sure to check out your dealer's credentials. Also, find out what their policies or guarantees are if you're unhappy with your purchase.
Your best option is to visit the company you're buying from so you can inspect the container yourself. If you're buying from a company that will build your home to your specifications, you'll be able to meet and work with a designer to select your layout and custom features.
Request a tour of their factory and see for yourself their process for container retrofitting. This will give you a chance to ask questions and help ensure you've selected the right company for your project.
However, if it's not practical for you to do an onsite visit, you may end up doing the transaction over the phone and online without seeing your container before it's delivered. This means you'll need to be extra diligent to ensure you're getting the quality construction you're paying for.
What dimensions do shipping containers come in?
Standard dimensions are 20 and 40 feet long by 8 feet wide and 8.5 feet high.
There are several specialty containers that come in sizes of 8, 10, 45, 48 and 53 feet long. "High-cube" containers are taller than the standard size, measuring 9.5 feet high.
This rendering shows a proposed layout for a single retrofitted 53-foot shipping container:

How long does it take to build a container home?
While there are no hard and fast rules for how long it should take to build a home, I've seen estimates of up to 75% faster than conventionally built homes. Some people say they have built their homes in as little as four weeks, although 3 to 6 months seems to be a more realistic estimate for most residential projects.
Of course, a lot depends on the complexity of your project, the building and zoning requirements of your area, and whether you take this on as a DIY project or hire a company to do some or all of the work for you.
Some companies that use a modular approach to building container homes can do so quite quickly. They'll do the actual customization of your home in an off-site factory. Once completed, they'll shrink wrap the container modules and ship or truck them directly to your site for final assembly.
The site assembly can take less than a week (some companies say they can do it in days). You'll then need to allocate time for hooking up utilities and doing the final interior and exterior finishing.
Can I get a mortgage on a shipping container home?
You'll need to speak to a mortgage broker in your area to find out what your options are. You might find it challenging to get a mortgage on your home because it's considered nontraditional construction.
Many banks won't lend on a property unless it's permanently fixed to a foundation. You might end up having to get two separate loans. The first loan would be for the construction and the second would be for a mortgage after your home is built and permanently attached to the site.
Even then you might find it challenging to get a mortgage because of the difficulty your lender might have in valuing your container home due to the lack of comparable housing in your area.
Your bank will also need some assurance that they'll be able to resell the house and recoup their money should you fail to make payments and they need to foreclose. Without comparable sales, your bank may refuse to lend you money.
Now as shipping container homes become more popular, some of these problems may lessen and project financing through traditional lenders may improve. If you find yourself coming across roadblocks from traditional lenders, you might want to consider searching out companies that offer loans on alternative housing.
How do shipping containers hold up in hurricanes, tornadoes and earthquakes?
According to a report from CNBC, the unibody steel construction of shipping containers exceeds the structural code in the US. This provides people in tornado- and hurricane-prone areas with an alternative to traditional brick or wood construction.
Shipping containers are designed to be strong and weather resistant. They must be in order to survive harsh conditions across long ocean voyages.
An empty 40-foot container weighs 8,000 pounds and holds 50,000 pounds of cargo when at sea. They stack on top of one another with the bottom container supporting the weight of up to eight other containers, which could total half a million pounds of load.
The Intermodal Steel Building Units (ISBU) Association says shipping container homes on a foundation can withstand 100 mph winds. When anchored with pylons, they can sustain 175 mph winds. They are also a safer and stronger alternative for structures in earthquake zones.
Aren't containers too hot to live in?
Just as with traditional built homes, you'll need to insulate your container home in order to maintain a comfortable temperature. Depending on the climate where you locate your home, you may need more insulation than standard built homes in your area.
That's because the steel walls and roof of your home could make it like a sauna in the summer and a refrigerator in the winter. Starting off with proper insulation is the key to maintaining a comfortable interior temperature and saving money on your heating and cooling bills.
If you don't insulate your home, you could also run into problems with condensation which could then lead to mold and corrosion issues. Your home could literally "sweat" from the inside.
Fortunately, good insulation should prevent these problems. Some insulation options include spray foam, expanded foam, loose fill, blanket insulation and nontraditional insulation. Discover Containers does a nice job of explaining these options.
Won't a container home rust?
Rust on your home could lead to structural damage, so it is a concern for owners of container homes. You'll need to inspect your home on a regular basis for areas of rust, remove any rust found, and treat the surface to prevent future rust from occurring. The good news is that you can repair small patches of rust relatively easily without having to refurbish the entire home.
If you use a third-party builder to construct your home, you'll want to ensure they remove any rust that already exists and pretreat your container to help prevent rust from forming.
Are they claustrophobic? Is it like living in a sardine can?
Well, some shipping container homes are quite small and certainly qualify as tiny living. If you don't like the idea of living in close quarters (or own a considerable amount of "stuff"), this might not be your cup of tea.
However, living in a steel-framed structure doesn't have to be that much different than living in any other home, especially if you're able to purchase several containers to create a larger space. There are tons of videos, photos and stories online of people who have created marvelous structures that rival the comfort and aesthetics of many traditionally built homes.
Here are some of our favorite videos:
A young couple from Victoria, Australia turned three 20-foot containers into an amazing home. It has spacious built-ins, a fireplace, a fully equipped kitchen and designer bathroom. The home cost $145,000 Australian dollars or about $105,000 U.S. dollars. It is a solar-powered, rainwater harvesting gem, which has the added bonus of saving on utility costs.
This video explains how one company uses and modifies shipping containers as alternative building blocks. Packed with useful information and some cool examples… be sure to check out the luxurious "Man Cave"!

FlyAway Homes is a private company that was founded to help solve homelessness in Los Angeles. Using shipping containers, they can build at a quarter of the cost and in a quarter of the time compared to traditional affordable housing. This video shows how they've stacked multiple containers to build an apartment complex.
How many containers are available for use as homes?
OK, there's a bit of controversy regarding the answer to this question.
Some experts claim there are millions of unused containers around the world. Many of these could be recycled and retrofitted as housing. They say the reason for this glut of surplus containers is a matter of economics.
For example, many containers arrive in the U.S. filled with goods from China. Once the containers are unloaded at the docks, shipping companies find it too expensive to ship the empty containers back to China for reuse.
There simply aren't enough goods manufactured in the United States to fill all the containers that wind up in our ports. Instead, it's cheaper for the Chinese companies to use a brand-new container the next time they want to ship goods overseas.
I've seen all sorts of estimates of how many containers are sitting empty and unused. The numbers range from about 700,000 all the way to a whopping 15 million.
The larger numbers are often quoted by companies that retrofit containers for home and office use. Part of the marketing campaign for these companies is that you're doing a good thing for the planet by recycling containers for other purposes.
But according to the Intermodal Steel Building Units (ISBU) Association, the news media and many industry professionals have confused global surplus with seasonal inventory, leading to a misstatement in the number of containers available for other uses.
Like many industries, the shipping industry has peak seasons where the shipment of goods between countries increases. Peak seasons vary between countries and are dependent upon the kind of commodities being shipped.
So, at any given time you might have a quantity of temporarily unused containers in storage at docks. These containers are being reserved for the peak season. However, they should not be considered surplus. According to the ISBU Association, there was an actual shortage of usable containers right after the economic collapse of 2008.
The number of decommissioned units (those no longer in service) suitable for retrofitting could be much lower than the millions some experts say exist. Adding to the confusion is that the industry doesn't have an international agency responsible for counting the number of containers in active use, the ones that have been decommissioned and those that have been scrapped.
What are some other interesting uses for containers?
People around the world have come up with some innovative uses. Here are just a few that we've found:
Multi-story hotels, "pop-up" hotels
Mobile military barracks and weapons systems
Medical centers
Farmers markets
Coffee shops, restaurants, cafés and retail shops
Student housing and classrooms
Emergency housing in disaster areas
A research station in Antarctica
Combination home and art galleries for artists
Showers and restrooms
Laboratories
Sales offices
Warehouses and security storage
---
More "Alternative Housing" Articles