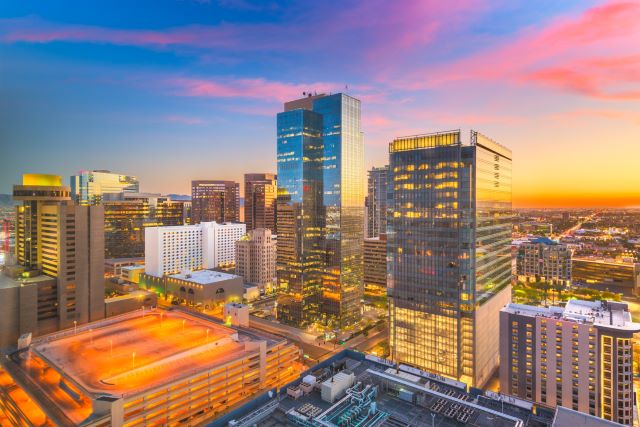 Arizona's capital city, Phoenix, has always attracted college students and retirees. Thanks to recent big tech investments in "The Valley of the Sun," the land of palm trees and cactus is also starting to draw professionals and families as well. Lower housing costs—the average one-bedroom apartment rents for $1,286 per month—a diverse culture, and a hopping food scene are all working to make Phoenix a popular new home for many people.
You can find cheap rent in Phoenix in these seven neighborhoods: Medlock Place, Melrose Woodlea, South Phoenix, South Mountain, Garfield, East Citrus Acres, and Alhambra. These areas are known for their distinctive neighborhoods, bustling city life, palm trees, cactus, and lots of backyard pools.
New economic prosperity, combined with low state taxes, mean the city is now becoming known as a great place to work, live, and raise a family. Here we review seven Phoenix neighborhoods that combine all this and are still remarkably affordable.
7 Neighborhoods Where You Can Find Cheap Rent in Phoenix
Some of the neighborhoods on this list have been troubled by poverty, gang violence, and high crime rates. Fortunately, recent revitalization efforts have improved these areas. This helps make them safer and more popular with residents, while still maintaining their reasonable rental prices. While the average rent in Phoenix for a one-bedroom apartment is $1,286 a month (as of February 2023), all the below neighborhoods offer significantly cheaper rent.
1. Medlock Place
One of Phoenix's original suburban living developments, Medlock Place is now securely at the heart of what locals refer to as "Uptown Phoenix." In the 1920s, Floyd Medlock—for whom the area is named—made the neighborhood possible by subdividing it with all the modern conveniences, a trend that still holds true today.
Medlock Place is considered to be very friendly to pedestrian traffic, and the community is especially proud of a wide variety of eateries.
At only $925 a month for a one-bedroom unit, Medlock Place is significantly cheaper than Phoenix's average rent.
2. Melrose Woodlea
…Or Woodlea Melrose, depending on whom you ask. By whichever name, it's a neighborhood that celebrates a close-knit sense of community pride. Every year in spring, the area hosts one of Phoenix's largest street fair events.
There are a lot of historic homes in Melrose, which has been a draw to the LGBTQ+ community, who've helped to restore many of the area's homes and businesses.
Of course, one downside to historic homes, despite their unique charm, is they can require a lot of maintenance. Because of this, you might find rentals that tend to be more rundown. Rent in the Woodlea region is extremely affordable at an average of $975 per month for a one-bedroom apartment and only $1,150 for a two-bedroom.
3. South Phoenix
In recent years, the South Phoenix neighborhood has undergone a lot of local cleanup, coupled with city investment. The mission is to help bring the area back to economic prosperity after decades of neglect.
With the standard of living in South Phoenix improved, the $1,000 average monthly rent for a one-bedroom apartment and $1,429 for a two-bedroom unit is even more attractive. Still, given its history, it's probably a good idea to talk to a reliable realtor about the specifics of any mini neighborhood in the larger area.
Another locally reported downside to the South Phoenix area is that it's a good distance from the city's thriving food scene.
4. South Mountain
South Mountain is popular with families due to its quiet streets and with outdoorsmen because of its access to the nearby South Mountain Park and Preserve. This neighborhood is also very affordable. The average rent is $1,000 for a one-bedroom apartment, and $1,404 per month for two-bedrooms.
South Mountain is also the home of Phoenix's famous Sky Harbor Airport, which can be a great plus if you plan to travel a lot.
A downside of having the eleventh-busiest commercial airport in the world as your next-door neighbor is the constant traffic and noise levels. Sky Harbor is open 24-hours a day, and those jets can rattle the windows.
5. Garfield
Garfield is another neighborhood that's made a recent comeback. Although once a quiet and family-friendly area, the community went through a difficult period where gangs, drugs, and high crime drove the standard of living down.
Today, the neighborhood is especially popular with students at the nearby University of Arizona.
Only $150 divides the average price of a one-bedroom apartment ($1,045 per month), and a two-bedroom rental ($1,195 per month). This makes Garfield a good option for a family.
6. East Citrus Acres
Although considered expensive by most Arizonan standards, East Citrus Acres still makes the cut as one of the best areas to get cheap rent in Phoenix. The average for East Citrus Acres is $1,055 for a one-bedroom unit, and a fairly reasonable $1,250 for two-bedrooms.
It's popular with residents because it's conveniently close to shopping centers. Additionally, locals report feeling safe walking the streets. One reported downside is that it is near a busy road, so the noise level can be daunting.
7. Alhambra
The Alhambra neighborhood is a snapshot of all that Phoenix has to offer. It's roughly 25 minutes from the downtown action. It has a diverse Southwestern culture stemming from both Hispanic and Native American populations. It's also a great place to move to if you like a fast-paced nightlife.
Unfortunately, that nightlife comes with a lot of thefts. This has pushed the Alhambra neighborhood into a higher crime rate than the national average. Both violent crime and property crime in Alhambra are well above the state and national average.
The average Alhambra rent for a one-bedroom unit is $1,096. A two-bedroom unit rents for an average of $1,374, which is only $88 more than the average Phoenix rent for a one-bedroom apartment.
How does Phoenix rent compare with other major cities?
Phoenix and its many bedroom cities have long been popular with senior citizens. It's only recently become more popular with people moving from the big cities of the West and East Coasts. The dry climate, warm temperatures, and open vistas are a huge positive for some newcomers.
But one inarguable benefit to Phoenix is the affordable housing. To put things in context:
On average you will pay $3,163 less per month to live in a two-bedroom apartment in Phoenix compared to what you would pay for a one-bedroom apartment in New York City. That's a savings of $37,956 per year to live in a bigger place!
And that's in Phoenix itself. If you find a place to rent in one of our cheaper neighborhoods, those savings could jump up by as much as a few hundred dollars more, per month.
With that savings you could:
Phoenix Rent vs. Other Major U.S. Cities
City
Average one-bedroom rent
Average two-bedroom rent
Phoenix, AZ
$1,286 per month
$1,550 per month
New York, NY
$4,713 per month
$6,320 per month
Los Angeles, CA
$2,677 per month
$3,835 per month
Boston, MA
$3,834 per month
$4,782 per month
Miami, FL
$2,912 per month
$3,847 per month
San Francisco, CA
$3,454 per month
$4,471 per month
Washington, DC
$2,443 per month
$3,250 per month
Source: Rent.com (February 2023)
About the writer: Suzanna Fitzgerald is a professional content writer specializing in crafting your stories into irresistible online marketing blueprints. You can find out more about Suzanna (along with her contact info) on her writer's biography page.
---
More "Cheap Rent" Articles